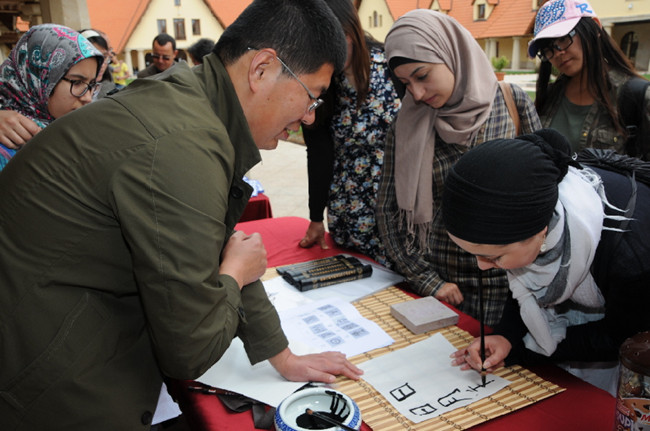 A girl practices Chinese calligraphy at Confucius Institute in Morocco.[Photo/Xinhua]
"There are strong demands to study Chinese and learn Chinese culture among people in many countries, including the United States, and that will be a persistent drive for the sustainable development of the Confucius Institutes," said Xu Lin, chief executive of Confucius Institute headquarters, at an on-going conference in Honolulu for Confucius Institutes from American and Oceanian countries.
"There are still more than 50 U.S. universities asking for our help to open a Confucius Institute on their campuses jointly with Chinese universities. We will consider our ability before giving them a reply," said Xu, who is also the director-general of Hanban, the Office of Chinese Language Council International.
"We will try our best to help those who need help in Chinese language and culture learning," said Xu.
Hanban, or Confucius Institute Headquarters, as a public institution affiliated with the Chinese Ministry of Education, is committed to providing Chinese language and cultural teaching resources and services worldwide, it goes all out in meeting the demands of foreign Chinese learners and contributing to the development of multiculturalism and the building of a harmonious world, according to Hanban website.
From June 21 to 22, some 280 heads of more than 130 Confucius Institutes in the American and Oceanian region gathered here to discuss the sustainable development of the Institutes.
Over 380,000 people have studied in the 138 Confucius Institutes and Confucius Classrooms in the seven countries in the region last year, a 35 percent growth over the previous year.
"We are encouraging the Confucius Institutes to develop their own local resources to support their sustainable development," She added.
In some U.S. universities and their communities, the numbers of people studying Chinese language are rocketing, including the Confucius Institute in the University of Pittsburgh, where student number soar from 49 in 2007 to the current 4,500.
At Portland State University, West Kentucky University, University of Arizona and some other universities, the numbers of students in the Confucius Institutes and Confucius Classrooms have exceeded 10,000.
Though Hanban is trying its best to provide part of the funding, teachers and other materials the Confucius Institutes in different universities need amid growing demands to study Chinese language and culture, more funds and resources are needed.
"Many Confucius Institutes are making great efforts to generate and utilize local resources to stay sustainable, such as training local Chinese language teachers, publishing their own localized Chinese language textbooks, and getting more support from local governments and communities," Xu noted.
"Helping people who want to learn Chinese language and understand Chinese culture is our only and constant goal," she said, adding "We are simply here to provide them with the opportunity to learn."