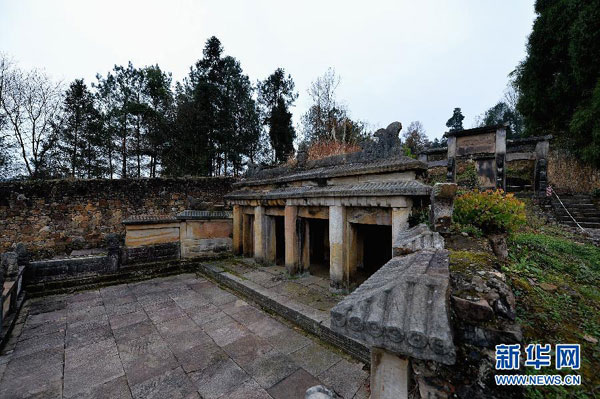 File photo taken on Dec 14, 2013 shows the Tangya Tusi city in Xianfeng county in Central China's Hubei province. [Photo/Xinhua]
For eight centuries, the "Tusi" chieftain system governed Southwest China's ethnic minorities, but remains little known in contemporary China.
Delegates to the 39th World Heritage Conference, which will be held this June in Bonn, Germany, will decide whether to add Tusi site ruins to UNESCO's World Heritage List.
Tusi was a tribal leader appointed as an imperial official by the central government in ancient China. The system dated as far back as the Five Dynasties period (907-960).
According to Fu Jing, an expert with the China Architecture Design and Research Group, Tusi ruins and cemeteries are scattered in Southwest China's Yunnan and Guizhou provinces, as well as the northeastern edge of the Qinghai-Tibetan Plateau.
China has a total of 101 Tusi heritage sites, including three listed on the UNESCO application.
"The three sites are in areas where different ethnic groups and cultures coexisted," Fu said. "They show the diversified culture and history of ancient China."
The ruins of Hailongtun castle in Zunyi, Guizhou Province, are located at the top of a mountain. The fortress was built in 1257 and was burned down in a battle in 1600. The site covers 1.59 square kilometers, and more than 2,000 cultural relics were unearthed in 2012, including porcelain, jade and ink slabs.
The Tangya Tusi city in Xianfeng county in Central China's Hubei province was even bigger than the Forbidden City in Beijing. The chieftain there ruled for 460 years. Statues, a cemetery and an ornately decorated memorial archway still stand there.
The Yongshun old Tusi city in Central Hunan province has a history dating back more than 600 years. Lying on the bank of a river, it is the largest, oldest and best preserved Tusi city site in China, with a temple, ancestral house, cemeteries and memorial archway. The complicated sewer ditch network is still working.
A total of 927 pieces of pottery, 3,686 pieces of porcelain, and 260 pieces of ironware were discovered in Yongshun, together with skeletons of tiger, leopard, bear, wolf, deer, and remains of turtles and shellfish.
China's first Tusi museum has been completed in Yongshun, which will open to the public this July.
According to Lei Jiasen, associate researcher with the heritage site of Yongshun Tusi city, the museum cost more than 80 million yuan and covers 5,450 square meters. It will replace the temporary exhibition hall, which featured more than 2,000 cultural relics.
"Less than one third of the site was excavated and most of the relics are from the Ming Dynasty (1368-1644)," said Guo Weimin, head of the archaeological institute of Hunan. "There are more relics from earlier periods to be unearthed," he said.
He said he hopes that Tusi heritage sites will be added to the World Heritage List in order to improve protection and research and let more people learn about Tusi culture.