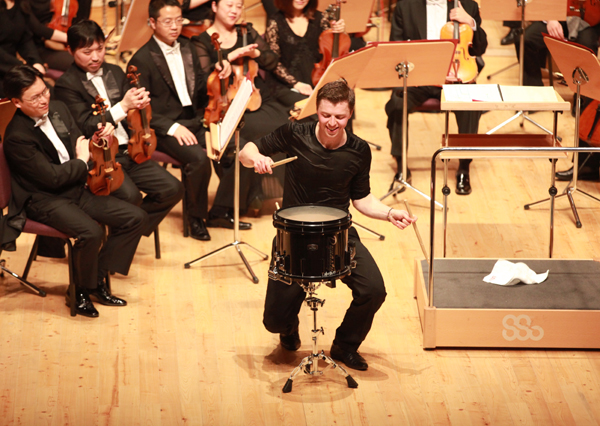 Austrian percussionist Martin Grubinger joins hands with Tan Dun to present Tan's concerto The Tears of Nature in China. Photo provided to China Daily
Martin Grubinger mounted the stage in a plain black T-shirt, while everyone else in the orchestra sported black dresses and tuxedos.
The 31-year-old percussionist from Austria was making his debut performance in China, playing Chinese composer Tan Dun's creation The Tears of Nature with the Shanghai Symphony Orchestra under the baton of the composer himself at the orchestra's new concert hall on April 4. On Saturday, Tan will bring the production to Beijing, conducting the China Philharmonic Symphony and presenting the piece with Grubinger at the Forbidden City Concert Hall.
In Shanghai, Grubinger played dozens of percussive instruments, flicking, rubbing and scraping them to draw out unexpected sounds. The effort more than justified the wardrobe decision of the musician: During the first piece he even performed a short ritual dance, wandering among the orchestra members, clicking two small rocks as an instrument.
The Tears of Nature is a three-movement percussion concerto. Each movement of the concerto was inspired by a natural catastrophe: The opening movement, Threat of Nature, was prompted by Tan's memories of the Sichuan earthquake in 2008; the second, Tears of Nature, by the 2011 tsunami in Japan; the final movement, Dance of Nature, was inspired by the energy and confidence shown by the residents of New York after Hurricane Sandy in 2012.
The concerto was commissioned by the North German Radio Symphony Orchestra in 2013. It is a tribute to Stravinsky's Rite of Spring for the 100th anniversary year of that piece's creation, Tan says.
The physically exhausting work taxed the sweating percussionist so much, he joked afterward, that he looked as if he was "coming straight out of the swimming pool".