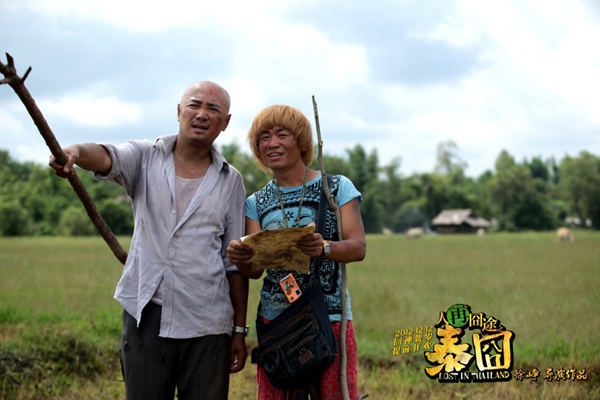 Xu Zheng (left) and Wang Baoqiang play the main roles in Xu's 2012 directorial debut, Lost in Thailand. Photo provided to China Daily
An analytical report released by major movie studios argues that the Lost model may work as a formula in China's fast-expanding market.
Around half of the five highest earning movies from 2012 to 2014 are comedy blockbusters. The highest return rates in the past two years were war-comedy The Chef, The Actor, The Scoundrel, with a 967 percent return on investment in 2013, and the film Where are We Going? Dad, adapted from a hit TV show of the same name, with an 898 percent return in 2014, according to a February report released by Xueqiu.com, a financial news website.
Box office statistics show that the top three highest-earning homegrown blockbusters are all comedies. In the past two years, Stephen Chow's Journey to the West: Conquering the Demons took the top spot, grossing 1.24 billion yuan, followed by Ning Hao's Breakup Buddies at 1.17 billion yuan, and Chow Yun-fat's The Man From Macao II at 969 million yuan.
However, insiders contacted by China Daily have mixed views on the rise of comedies.
"According to our investigations, the mainstream moviegoers are those in their 20s and 30s. They are stressed and are struggling for a better life in big cities. So most of them don't want to pay money to see something too serious," says Niu Song, ethnic film exhibition chairman with the Beijing International Film Festival.
"The viewers want to laugh in the theaters and to relax on the weekend. That may explain why comedies are becoming more popular."