继"你懂的"后,政协发言人吕新华再"赶时髦"。全国政协十二届三次会议新闻发布会3月2日下午召开,大会新闻发言人吕新华向中外媒体介绍本次大会有关情况并回答记者提问。香港凤凰卫视女记者提问反腐,吕新华用"任性"回答引笑声,并让现场翻译"纠结"。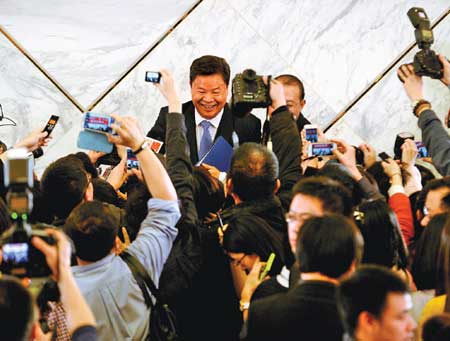 Lyu Xinhua, spokesman for the 12th National Committee of the Chinese People's Political Consultative Conference, talks to media on the sidelines of a news conference on Monday. Wei Xiaohao / China Daily
香港凤凰卫视女记者问:中共反腐风暴不会停止,有消息称最近有更大的老虎落马,请问如何理解"更大的老虎"?
吕新华说:党和政府,还有人民群众,在反腐的问题上,我们的态度是一致的。我套用一个网络热词就叫:大家都很任性。在这一点上,没有分歧。
他补充说:"大家都支持,有老虎的话,把他拉出来,态度上大家都很任性,对不对啊?"看到记者们纷纷点头,发言人也"哈哈"乐起来。
"任性"如何翻译?大家都在为现场翻译捏一把汗,现场翻译是这样处理的:
I should say, the Party, the government, and the general public actually adopt the same attitude when it comes to anti-corruption. So we can be said to be capricious in fighting against corruption, and we are entitled to be so.
吕新华接着回应反腐败的问题:
吕新华:在过去一年,党中央坚持无禁区、全覆盖、零容忍,严肃查处腐败分子,着力营造不敢腐、不能腐、不想腐的政治氛围,成效明显。在反腐斗争中,发现一起查处一起,发现多少查处多少,绝不封顶设限,没有不受查处的"铁帽子王"。
现场翻译用这句话巧妙解释了这一含义:No one has impunity.(没有人可以免罚。)
下面我们来看看《中国日报》对"铁帽子王"的翻译:
Lyu said that in fighting corruption it's important to deal with any and all of it. There will be no "iron-cap princes" that have immunity, he said.(吕新华表示,在反腐斗争中,发现一起查处一起,发现多少查处多少,没有不受查处的"铁帽子王"。)
那么,"铁帽子王"这个词是怎么来的呢?
"Iron-cap princes" refers to 12 special princes during the Qing Dynasty (1644-1911) whose princely titles were to be "passed on forever" through generations. Other princes' sons could only inherit a title at a lower level.
"铁帽子王"是对清代世袭罔替的王爵的俗称。整个清代共有12位承袭爵位无需降等的"铁帽子王"。一般情况下,功封王爵者多属世袭罔替,而恩封爵位者则多属世袭递降。
铁帽子王和其他亲王相比,享有的特权一是"世袭罔替", 隔代不降爵;二是俸禄优厚,岁俸银1万两,禄米1万斛;三是赐予世袭罔替王府,又叫铁帽子王府。
(中国日报网英语点津  Julie)