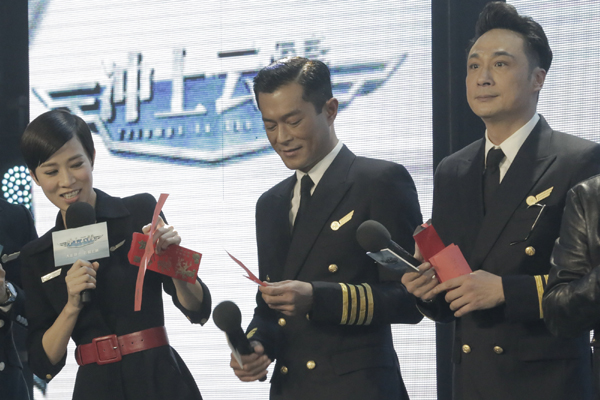 (L-R) Cast members Charmaine Sheh, Louis Koo and Francis Ng attend a promotional event. Photo provided to China Daily
Listed as the top earner in the Hong Kong showbiz circle in the past year, actor Louis Koo is anticipated to hit a new record in the upcoming romance Triumph in the Skies.
As the first film adaptation of the hit TV series with the same title, which is premiered by TVB Jade channel in 2003, the movie follows the romantic and struggles of three flight crew couples.
With the release of its screening date of the first day of China's Lunar New Year, which falls on Feb 19 this year, the producers expect the film will earn 1 billion yuan ($161 million) in box office during the Chinese holiday season.
The flight-theme production stars a slew of A-listers, including singer-actress Sammi Cheng, Taiwan Golden Horse best-actor winner Francis Ng, Chinese-Australian actor Julian Cheung, veteran actress Charmaine Sheh and Taiwan actor Amber Kuo.
Tommy Leung, executive producer of the Hong Kong Airlines-sponsored film, predicts that the collection of top stars will create a big base of fans flocking to the cinemas.
Koo, reported as the highest-paid actor in Hong Kong by domestic media, has grossed a total income of 240 million yuan from performing in 14 movies, acting as spokesperson for 10 advertisements and participating in numerous commercial performances.
Leung also revealed that the crew has hired a foreign company to provide technical coaching for the stunning aerobatics scenarios.
"The filming can be depicted as romantic, dizzy and exciting. Some of the shooting locations, such as the London Eye, are among the best-recommended dating places. We hope the romance will delight moviegoers during the Spring Festival," said Wilson Yip Wai Shun, the film's director.
Related:
New stills of movie 'Triumph in the Skies'