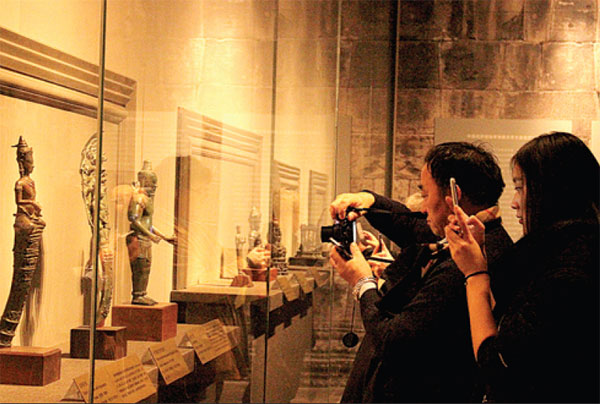 The Smile of Khmer: Cambodian Ancient Cultural Relics and Art exhibition gives Beijing visitors deeper insight into the ancient Angkor heritage. [Photo by Wang Kaihao / China Daily]
You will soon be able to see parts of Cambodia's landmark Angkor Wat temple in Beijing.
Following yearlong preparations, Cambodia's first major exhibition of its cultural relics in China has opened at the Capital Museum on Friday and will continue through March 25.
After Beijing, the Smile of Khmer: Cambodian Ancient Cultural Relics and Art will move to Guangzhou in southern China's Guangdong province in April.
Some 80 pieces, including stone statues, bronze wares and ceramics, are part of the upcoming display at Beijing's Capital Museum.
The exhibits that otherwise are housed at the National Museum of Cambodia offers glimpses of the Khmer Empire from the 9th to 15th centuries, officials say.
Inside a hall of the Capital Museum, mood lighting over the exhibits also mimics facades and the environment of the ancient, sacred Cambodian architecture.
"We don't want the exhibition to be very serious," Tang Yisong, president of Beijing Huaxie Cultural Development Co Ltd, the main curator of the exhibition, tells China Daily.
"That's why we traveled to Angkor Wat many times to get enough information to mimic the environment."