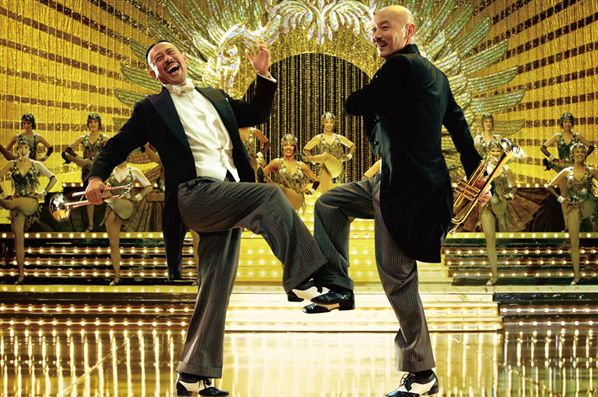 A still from the film Gone With the Bullets [Photo/mtime.com]
Gone With the Bullets has nothing to do with Gone With the Wind, but a lot to do with Let the Bullets Fly, Jiang Wen's previous outing as a film director. Other than the bullets in the titles, both share a style that can only be described as flamboyant and giddy.
At the end of the 2010 movie, the main character, played by Jiang himself, said they were setting off for Pudong, and now here they are, four years later — even though they have landed in a totally different narrative. It may come as a surprise for some that, this time, the story is based on truth, or some semblance of it. In 1920, a college-educated young man killed a beauty queen to rob her of her wealth. It became such a big sensation that the budding film industry of the day turned it into China's first feature film. Unfortunately, the reels were later lost.
However, it is never Jiang Wen's concern to recreate that true story. It only provided him with a springboard that set free his flight of fancy. Not only is the real villain now a movie hero, who accidentally killed his object of affection, but the setting of Shanghai has taken on a hallucinatory feel that the whole tale could be construed as a dream sequence.
The opening scene of the beauty contest is one of razzle-dazzle, filled with Broadway performers and Hollywood-standard numbers that may delight Busby Berkeley. But the joke is on China's showbiz, especially variety shows and reality shows of the TV industry. The hyperbole the hosts use is a hilarious send up of what's constantly paraded on China's screens.
The movie segues from one genre to another, from musical to romance to gangster to comedy without missing a beat or looking out of place. The twists and turns in plot are not diffcult to follow, but the jokes and gags are hurled at you so fast and so unexpectedly that may warrant repeat viewing. The winks at movie classics such as The Godfather will surely elicit knowing smiles from cinephiles.
Jiang Wen does everything with abandon. He is a disciple of the Dionysian spirit. What he offers on screen is the sensual equivalent of a drinking binge. You can never accuse him of keeping a low profile. But that does not mean he employs only broad strokes. He is known to be a fanatic for details. Whether it's the locations he chooses or the music deployed, every element is used with utmost effect. If intoxication is your goal, this is the movie for you.