Traditions, traditions…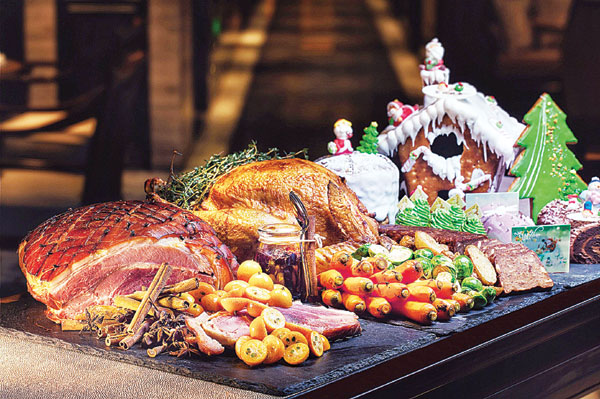 CHRISTMAS FEAST: Roast turkey, ham and beef are traditionally served at the western festival. [Photo provided to Shanghai Star]
Christmas dinner is just like the Spring Festival reunion dinner. It is a time for families to gather, and to celebrate one meal together. There will be exchanging of presents and goodwill, and feasting on a range of traditional goodies. Pauline D. Loh remembers some Christmases past …
The air is freezing outside, but the smell of crackling logs and pine needles from the Christmas tree scent the room, immediately creating the ambience of seasonal cheer.
In spite of the increasingly secular celebrations all over the world, the Christmas meal in most Western homes still celebrate Christmas for what it is – the birthday of Jesus, the Messiah born to save sinners from their worst enemy – themselves.
Christmas reminds us that the world is oiled on kindness, tolerance, peace and goodwill, and now more than ever, this is when we should remember the spirit. In an increasingly cold world, Christmas reminds us that the warmth of human nature starts right at home.
The traditions of the Christmas table goes back a long time, and as we carve our turkeys and demolish our hams, let's stop a moment, and long back at the origins.
CHRISTMAS TURKEY
We all know it's an American bird, and we have to thank the Spanish for taking it back to Europe from the New World as early as the 16th century, when it became popular as the main meat for the Christmas meal.
In North America, it is still the bird of choice on Christmas, quick on the heels of Thanksgiving in November.
The bird is often roasted whole and then presented on the table, where it is the tradition for the patriarch to carve up portions. Most turkeys these days come with an oven thermostat that pops up when the bird's internal temperature rises high enough to indicate that it's cook.
It's a big bird, so the meat can dry out easily. Most chefs get around the problem by bringing the turkey — soaking it in salt water so the excess moisture of the meat is drawn out, and the bird gets seasoned. It also reduces cooking time.
Executive Chef Sandro Gamba of the Ritz-Carlton Pudong shares a secret. He deep-fries the bird to crisp the skin first before putting it into the oven to roast.
The turkey is also filled with stuffing traditionally made with sausage meat (flavored minced meat), chestnuts, cranberries and soaked breadcrumbs. The seasoning is often exotic spices such as nutmeg, cloves and star anise – for which Europeans first set sail for the Spice Islands.
Other traditional side dishes include steamed Brussels sprouts, cranberry or maple syrup glazed carrots and roast potatoes.
The juices that escape during the long roasting process is often deglazed with red wine and served separately, in a gravy boat.