Traditions, traditions…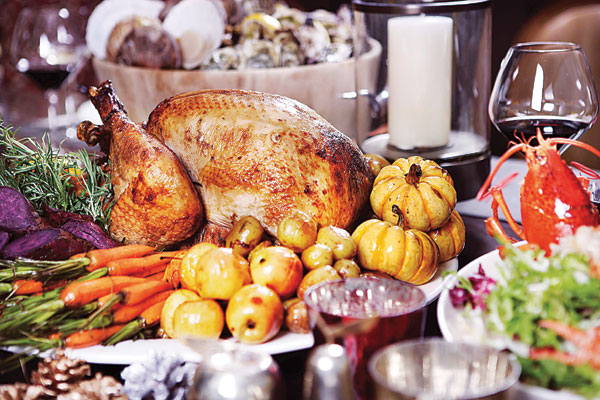 CELEBRATE: A selection of traditional Christmas foods. [Photo provided to Shanghai Star]
CHRISTMAS GOOSE
Those of us familiar with Charles Dicken's A Christmas Carol will remember that the coveted centerpiece for the poor Cratchit family.
The goose was a more economical bird during the Dickens era, and it fed smaller families who could not afford the imported turkey. Eating goose also betrays the country's German roots, and the tasty smaller bird is still a Christmas staple across the Channel. Sometimes duck is also served.
The goose is also roasted whole and then carved into portions. Sometimes a fruit glaze is used, with red berries and citrus fruits used most often.
CHRISTMAS HAM
A whole ham, boned in, or deboned, lights up the Christmas table like nothing else. Although the tradition originated in the Nordic countries, its popularity has cut across boundaries and ocean, and many families now show a preference for ham over turkey.
The preparation of the ham may begin in autumn, when the pig is fattened and slaughtered. The whole leg is then salted and hung to cure. Sometimes it is smoked over fruit wood.
There are many ways to cook the ham, but the more popular is a crust of mustard, eggs and breadcrumbs, or a honey glaze with pineapple rings decoratively placed on the ham. Often, the ham is studded with cloves.
Ham is carved at table, and may be served with roasted apples, apple sauce or pineapples. SWEET STUFF
CHRISTMAS PUDDING
This is a time to bake and make sweet confections. The most traditional is the dark, rich Christmas or plum pudding, full of preserved fruits and sugar – all of which were considered luxury goods in olden times and to be indulged in only once a year.
After the pudding is cooked, it is often marinated in alcohol, mainly brandy, and served with more alcohol. It is brought to table, usually decorated with a sprig of golly, and heated brandy is poured over it and set aflame. It is served with hard sauce, made with more brandy.
As with any old customs, the pudding is often associated with certain rituals. A recorded custom in medieval England states that the "pudding should be made on the 25th Sunday after Trinity, that it be prepared with 13 ingredients to represent Christ and the 12 apostles, and that every family member should stir it in turn from east to west to honour the Magi and their supposed journey in that direction".