Traditions, traditions…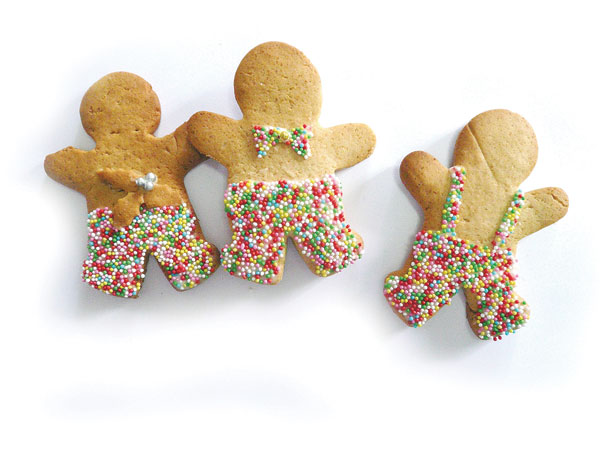 SWEET: Gingerbread men are often used as decorations. [Photo provided to Shanghai Star]
Gingerbread Cookies
This spicy ginger biscuit is traditionally cut into boy and girl shapes, or Christmas trees, bells, holly leaves and other symbols associated with the season. The gingerbread man also features in childhood stories and nursery rhymes.
These days, gingerbread cookies are popular gifts and in my own home, we bake, decorate and hang gingerbread cookies on the Christmas tree as ornaments. References say gingerbread was brought to Europe by an Armenian monk, Gregory of Acropolis. It soon spread throughout Europe and the United Kingdom. Its distinctive fragrance has definitely become part of the Christmas ambience.
Sherry trifle This is a boarding school favorite in England, and an old-fashioned festive dessert that deserves to be resurrected. It is a layered creation with sherry-soaked pieces of sponge forming the base. Fruit-favored gelatin is poured over, and chopped peaches or other stone fruit added to the jelly. Finally, whipped cream is piled on top of the trifle and colored sugar beads named hundreds and thousands are sprinkled on top. Sometimes, a custard sauce is served with the trifle.
GLUHWEIN
The British calls it mulled wine, the Germans and Austrians call it gluhwein. It is a hot beverage usually made with red wine. The wine is heated up together with mulling spices that may include cardamon, cinnamon, cloves and nutmeg. Often raisins are added, and citrus peel. The British version favors port and claret, while red wine and cider is used elsewhere.
Mulled wine is served at the traditional open-air Christmas fairs all over Europe and a cup of it warms the festive crowd – inside and out.