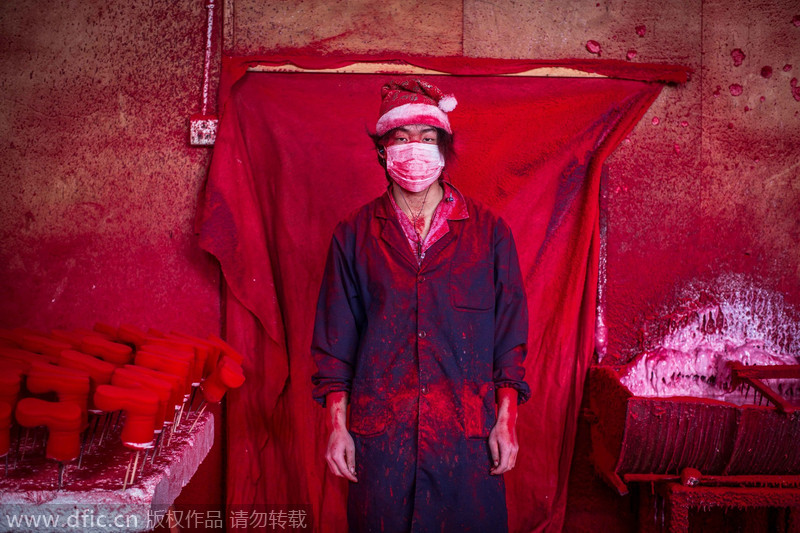 19-year-old Chinese worker Wei wearing a face mask and a Christmas hat stands next to Christmas decorations being dried as red powder used as coloring hovers in the air at a factory in Yiwu city, Zhejiang province, December 6, 2014. [Photo/IC]
Thousands of miles away from the North Pole, a "Christmas Village" in China's Zhejiang province is filled with "red factories" that produce Christmas products for the whole world.
The city of Yiwu, just a couple of hours south of Shanghai by fast train, is known as China's massive Christmas market. From 2001 till now, the booming Christmas production industry there grew from a mere 10 factories to more than 600. The village produces 60 percent of the world's Christmas decorations and more than 90 percent of China's.
"Maybe it's the [Chinese] New Year for foreigners," a 19-year-old Yiwu factory worker surnamed Wei tells Sina News when discussing the holiday. Wei says he knows that Christmas is a festival, but doesn't really know what it's about.
Wei and his parents came to Yiwu from their home in Guizhou province this past spring, after their friends told them that they could make up to 4,000 RMB a month working in the factories. Wei and his father spend 10 hours in this factory every day producing plastic snowflakes for about 3,000 RMB per month. Red powder used as coloring hovers in the air, and the two go through about 10 face masks a day trying not to breathe it in.
Although he wears a Christmas hat at work, Wei's father doesn't intend on celebrating the holiday. The hat protects his hair from the red dust—which covers them from head to toe like soot after several hours of work.
Wei's father said the job is too tiring and that they probably won't do it again next year. Once they earn enough money for Wei to get married, they plan on returning home.