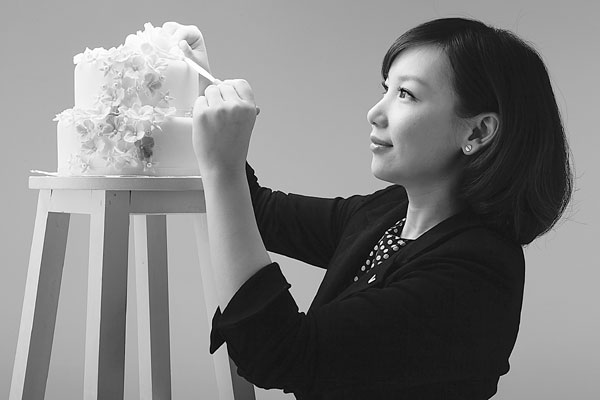 [Photo provided to Shanghai Star]
Baking cakes started as a way to keep busy during pregnancy, but soon morphed into a thriving business. Zhou Wenting chats to Shanghai's wedding cake wonder.
Chen Wei started making cakes when she was bored at home while pregnant. There was little to indicate these early forays into the kitchen would pave her way to becoming Shanghai's queen of wedding desserts.
Five years ago, after quitting a busy job and waiting to give birth to her baby, Chen found a book and some tools for making fondant cakes, which her husband had bought in Britain, the home of the chic dessert.
"I'm quite capable of drawing and designing and adept at handiwork. Why not have a try?" Chen thought to herself. She has been a keen painter since childhood and spent years working as a creative at an advertising agency.
Her regret at not having a perfect cake for her own wedding reception inspired her to turn that dream cake into reality. The design major sketched her elaborate dream cake and was meticulous with every detail — from raw materials, baking temperature, to the color of the finished product.
Her masterpiece impressed her friends. At that time, no one in Shanghai was offering custom-made wedding cakes. Brides either ordered a mass-produced cake from a big hotel or just abandoned the idea.