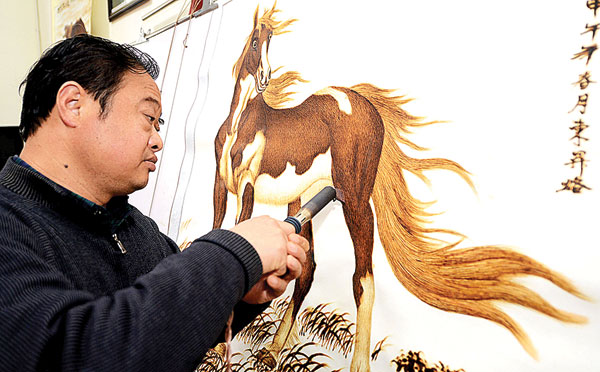 Henan-based artist Zhan Dongsheng has worked for decades to hone his skills of traditional "iron-painting". [Photo by Xiang Mingchao/China Daily]
When visitors walk into Chinese folk artist Zhan Dongsheng's house, in Xinyang, Central China's Henan province, they see animals such as tigers and dogs emerge vividly on pieces of 2-meter-long silk.
Unlike other painters, the 52-year-old man creates his creatures with soldering irons, common tools on construction sites but not the usual choice.
The "iron-painting" dates back to the Western Han Dynasty (206 BC-AD 24). Originally, people burned patterns on the rumps of horse to differentiate the animals, an early form of livestock branding. The process evolved, and hot-iron tips were used to create patterns on bamboo, on wood, and even-very carefully-on silk.
"It was a kind of Chinese traditional craftsmanship," Zhan says. "It is also part of our heritage."
Zhan, who was born in the Year of the Tiger, is famous for using the iron tool to draw the tiger on silk.
"The tiger stands for being courageous, energetic and very capable in China," Zhan says.
At first, many people could not believe that using the iron on thin silk requires such a high level of skill, as timing and temperatures are important. People overseas have also been surprised by the "ironing paintings", he says proudly.