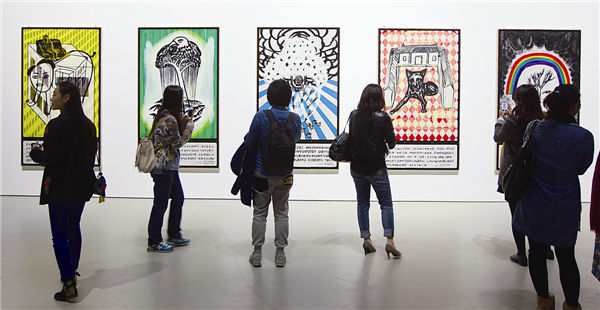 Asian Father by artist Hou Chun-ming. Photos by Gao Erqiang / Shanghai Star
The Shanghai Biennale has divided the media and art lovers, with the former decrying the lack of spectacle, but the latter embracing the nuanced depictions of the modern world. Zhang Kun reports.
The media and the art community seem to be divided on the 10th Shanghai Biennale.
The biennial exhibition is the largest showcase of contemporary art in Shanghai since 1996. The latest edition opened at the Power Station of Art (PSA) on Nov 23. More than 70 artists from all over the world are presenting about 100 pieces and projects around the theme of Social Factory.
But the biennale is disappointing to the media because it has not produced any visual spectacle, nor celebrity artists.
The art community, represented by teachers and students from art academies, has responded positively to the curator's efforts to tell stories of the contemporary world.
This edition of Shanghai Biennale is so focused on narrative that the video projection has a length of more than 28 hours, according to a rough calculation by Oriental Morning Post.
Power Station of Shanghai, organizer and host of the exhibition, has invested as much as 1 million yuan (US$163,000) to build several cinemas in its exhibition halls, according to its vice director Li Xu.