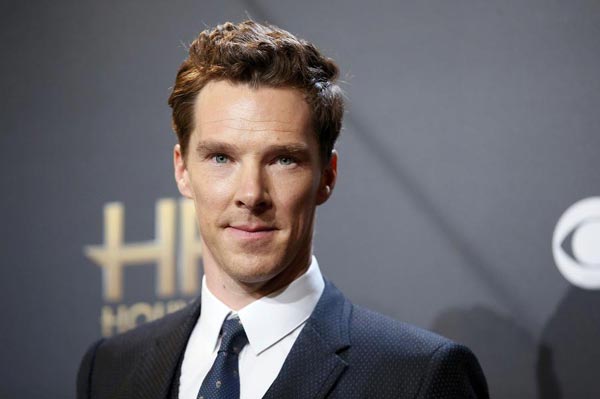 Actor Benedict Cumberbatch poses backstage with his actor award for "The Imitation Game" during the Hollywood Film Awards in Hollywood, California November 14, 2014. [Photo/Agencies]
With characters like Sherlock Holmes, Julian Assange and Stephen Hawking, Benedict Cumberbatch has accumulated a filmography littered with high IQs.
Characters of analytical prowess and fast-deducting intellect have made Cumberbatch something like the ultimate quicksilver mind of the digital age. No actor has made computation sexier.
Cumberbatch, relaxing in a Toronto hotel room, quickly points out that he has—like his spineless plantation owner of 12 Years a Slave or his painfully shy son in August: Osage County—played some "pretty dull, ordinary" people. "Let's say us. I've done us, version of me and you," he says.
And yet Cumberbatch is clearly drawn to highly complex, real-life characters under extraordinary circumstances—roles that demand technical preparation (an accent, a stammer), considerable biographical research and a precision of approach. Puzzles to be solved.
"Maybe that's a fair one," he says, turning over the idea. "Maybe I do. I think for the reasons people are attracted to those characters, as well. You can never fully understand them. There's always a certain amount of enigma or mystery to them."