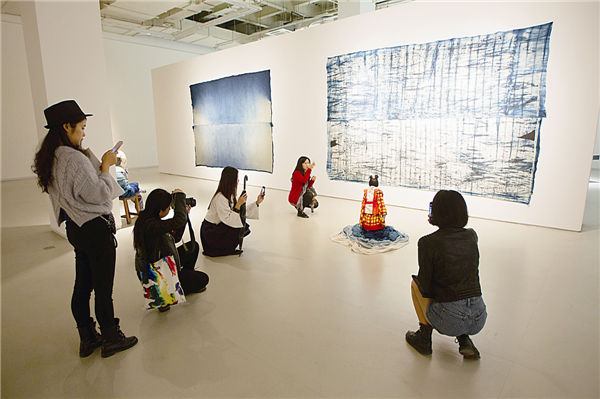 Visitors take pictures of work at the Shanghai Biennale.
These art works tell stories about women workers on the assembly line, people of different origins reading poems in each of their distinctive dialects and language, blind people learning to make sculptures, and migrant workers finding shelter in a building about to be torn down in suburban Hangzhou.
German curator Anselm Franke was nominated by the academic board of Shanghai Biennale to produce the 10th edition of the biennial exhibition. Franke is head of the visual art and film department at the House of World Cultures, Berlin. He was the curator of the 2012 Taipei Biennial in 2012, called Modern Monsters/Death and Life of Fiction.
It is Franke who decided on the theme of the Shanghai Biennale. He believes that contemporary art is not just about art taking place in the modern age, but about artworks created to reflect features of the time after artists immerse themselves in the cultural environment and social reality, and feel their "contemporariness" in everyday life.
By choosing Social Factory as the theme, Franke is aiming at overturning the situation in which contemporary art is isolated from the general public, and rebuilding the root of art in society and public.
An electronically-controlled piano stands in the central lobby of PSA, playing the sound of the Chinese pronunciation of "shi shi qiu shi (seeking truth from facts)" every few seconds.
The audio installation is not as impressive as the six-story-tall metal tower by Chinese artist Huang Yongping in the previous edition of Shanghai Biennale, but the phrase "seeking truth from facts" marks an important turning point in China's social life of the past decades. It was Deng Xiaoping who re-invoked the exhortation of Chairman Mao to justify his initiation of the nation-wide socio-economic reform and opening up. It was the beginning of decades of rapid social development and economic growth.