Traditions, traditions…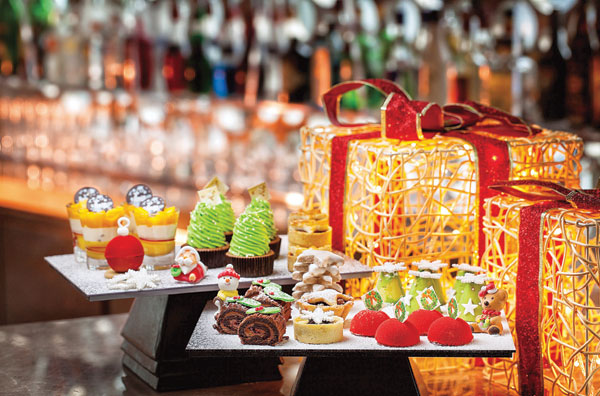 CELEBRATE: A selection of traditional Christmas foods. [Photo provided to Shanghai Star]
BUCHE DE NOEL
The Yule Log cake is a simple sponge rolled up and decorated like a piece of fallen log. It originated in France and the name simply means "Christmas log". It is also a relatively late addition to the Christmas repertoire, having been created only in the 19th century, Its pretty presentation won more fans, and it is also lighter on a palate suffering an over abundance of good food during the season. In Catholic countries, the buche de noel is served at the midnight feast that follows Mass on Christmas Eve.
STOLLEN
This cake-like loaf has German origins, and strictly speaking, only bakers from Dresden can make a stollen, and anything else made anywhere else is not official.
Made with dried fruit and pieces of marzipan, it is a bread-like fruitcake risen with yeast and filled with candied peel, raisins, figs and cherries.
The dough is filled with a roll of marzipan or almond paste and folded over to give it its traditional shape and then the finished with a liberal dusting of sugar.
MINCE PIES
If you look at some of the definitions of "mince pies", you may well get confused over its identity. Is it sweet or savory? Why was it known as mutton pie? Does it have meat or dried fruit in it? It is all these things and more. A mince pie is a little shortcrust pastry tart with a filling of dried fruit and nuts that has been aged with sugar and alcohol. Its origins date back to the Crusades, when soldiers returning from the Middle East brought back recipes of meat cooked with fruit. So, the original pies did have some minced meat in them, and called mutton pies. The modern tart is likely meatless, but the heavily spiced chopped fruit and nut mixture is still its most recognizable signature.