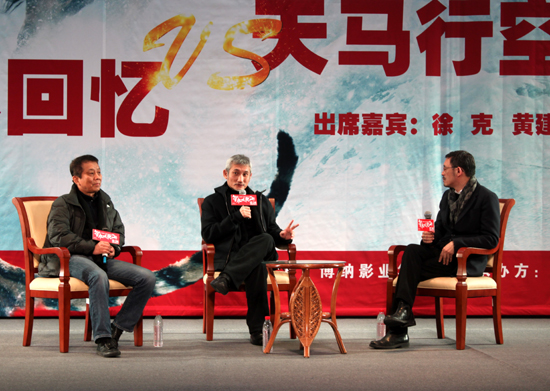 Hong Kong filmmaker Tsui Hark (C), producer Huang Jianxin (L) and host Dr. Ma Ka-fai shared insight into the making of the new 3D action film "The Taking of Tiger Mountain" at Tsinghua University in Beijing on Dec 19, 2014. [Photo/China.org.cn]
BEIJING - The opening of Hong Kong director Tsui Hark's "The Taking of Tiger Mountain" brought some much needed hope to the domestic movie market, which has a 30-billion-yuan ($4.82 billion) box office target for the year.
But as time quickly ticks away, the world's second biggest film market has only chalked up some 28 billion yuan as of Monday, according to China Film News.
Some analysts said that this December would see a three horse race between John Woo's "The Crossing", Tsui Hark's "Tiger Mountain" and Jiang Wen's "Gone with the Bullets", the sequel to "Let the Bullets Fly." But these big-budget productions saw a lackluster response from moviegoers.
Even "Roaring Currents", South Korea's highest grossing film of all time, ended up being a dud in the China market. Besides "The Taking of Tiger Mountain", industry players are putting their faith in romance film "Love on the Cloud" as Christmas is a popular time for cinema trips.
Related:
Tsui Hark revives China's red classic