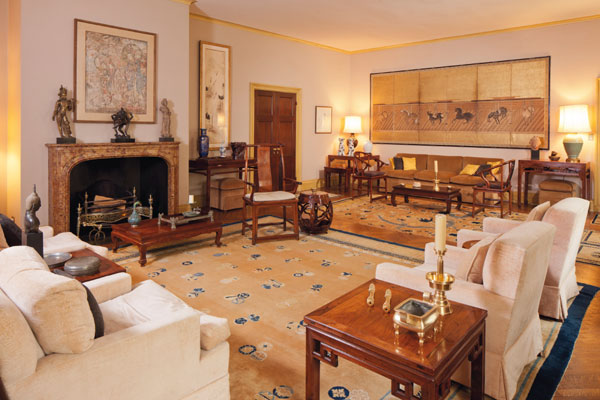 A room at Robert H.Ellsworth's apartment on Fifth Avenue in New York. [Photo/China Daily]
The death of the West's pre-eminent collector of Asian art means a treasure trove will go under the hammer in March, Deng Zhangyu reports.
The elevator rattles as it rises to Robert H. Ellsworth's apartment on Fifth Avenue in New York. Walking from one room to another, we can hardly take our eyes from assortments of Chinese paintings, old-fashioned jade, Buddha sculptures and Ming Dynasty (1368-1644) furniture.
As if walking to the end of the house of 22 rooms, Ellsworth, the prestigious late art dealer and collector of Asian art, would sit at a table, caressing an animal-like antique object with one hand; on the floor, a rug used in the emperor's quarter of the Forbidden Palace in Beijing.
Last week Xiang Liping talked about his 2011 interview of Ellsworth, a rare chance to visit the master collector's house at his late year.
Ellsworth devoted his life to loving, collecting and dealing Asian art. However, these art treasures will be dispersed into collectors across the world in the wake of his death in August at age 85, except those donated to museums like the British Museum and the Metropolitan Museum of Art.
More than 2,000 art objects at Ellsworth's museum-like house will be auctioned at Christie's in March, the biggest private collection of Asian art to appear at auction.
"Our men are still busy categorizing Ellsworth's art legacy at his apartment. All the objects will be sold in live auction and online," says Jonathan Stone, chairman of Asian Art at Christie's.
He adds that the number of objects is so huge that they need more time to finish sorting through them to get an accurate figure.
A major part of Ellsworth's legacy is Chinese art, which he started collecting during childhood although he didn't know a Chinese word.