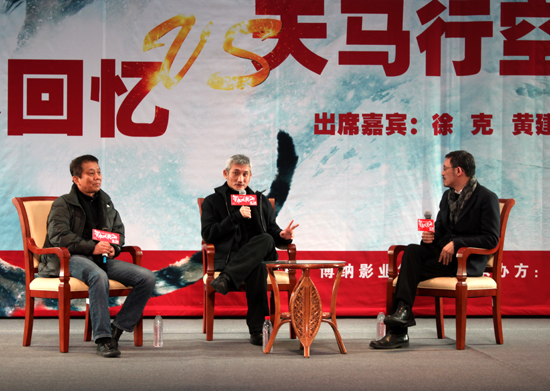 Hong Kong filmmaker Tsui Hark (C), producer Huang Jianxin (L) and host Dr. Ma Ka-fai shared insight into the making of the new 3D action film "The Taking of Tiger Mountain" at Tsinghua University in Beijing on Dec 19, 2014. [Photo/China.org.cn]
Hong Kong filmmaker Tsui Hark told students at Beijing's Tsinghua University on Friday that his new movie, "The Taking of Tiger Mountain," has haunted him for 40 years.
As director Jiang Wen's much anticipated "Gone with the Bullets" met with heavy criticism and underperformance at box offices, audiences and theater managers have started to look for another savior of the movie season. The 3D film "The Taking of Tiger Mountain," which had a series of advanced screenings before its official Christmas Eve release, including one at Tsinghua, won thunderous applause from fans and critics for its vivid 3D visual effects and action-packed, well-crafted plotlines.
"I don't worry about whether the young generation will accept and like the movie," Tsui Hark said. "Making this movie is a wish that has haunted me for 40 years. I just ask myself to make a good film and share it with all of you."
The movie, produced by Bona Film Group, is based on the bestselling novel "Tracks in the Snowy Forest" by Qu Bo. It's a 1940s war story in which a communist spy named Yang Zirong uses his wit to infiltrate and defeat a heavily-armed group of bandits. Qu's novel was also famously adapted into the Peking opera "Taking Tiger Mountain by Strategy," initially by Shanghai Jingju Company, in 1958, making it into a new revolutionary classic. The book also inspired a 1970 film and three musical dramas produced in the late 1960s.