Painting the town bright red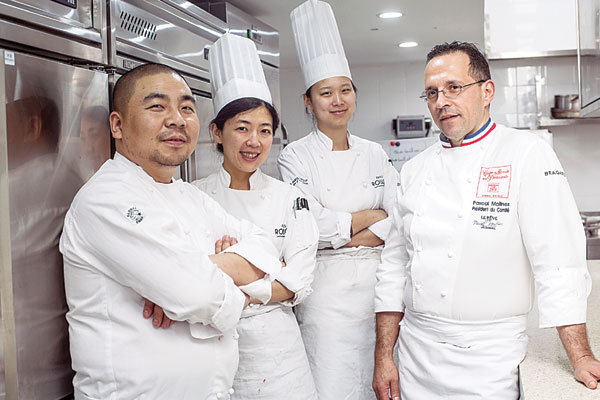 TEAMWORK: Liu with his kitchen staff and French patisserie master Pascal Molines. [Photo provided to Shanghai Star]
There is actually method in his madness, if you can seat him down long enough to listen to his story. Pauline D. Loh captures the chef in a quiet moment and finds out what drives him with such passion.
Catering runs in his blood. Stephane Liu's parents pioneered the first restaurant in Gansu offering banquet facilities in the early years when China switched from a planned to a market economy. But it was precisely because mom and dad knew how difficult the business was that they sent their son to France to prepare for a career outside the kitchen.
Eight years later, Stephane Liu returned to China as an accomplished French chef.
Not only that, he and his wife invested everything they owned, including their first house, to start up a restaurant on the Bund. That Paris Rouge is currently one of the most popular French restaurants in that rarefied part of town may be incidental.
Liu followed up by opening a patisserie across the street at Yifeng Galleria, where the corridors witness the perambulations of the mink and diamonds set. He roped in Pascal Molines, the master of French confections, and started selling macarons, gateaux and éclairs at equally elegant prices.
He calls Le Reve a dessert art space, and it does look like a gallery, with a curved, clear counter that looks as if it belongs more to a museum, and subdued lighting at the tearoom area where conversation is muted and the faint fragrance of tea wafts into the perfumed air.
How did a young man from Gansu transform into a chef of such sophistication?
It started with envy.