Gay British musician Elton John marries partner under new law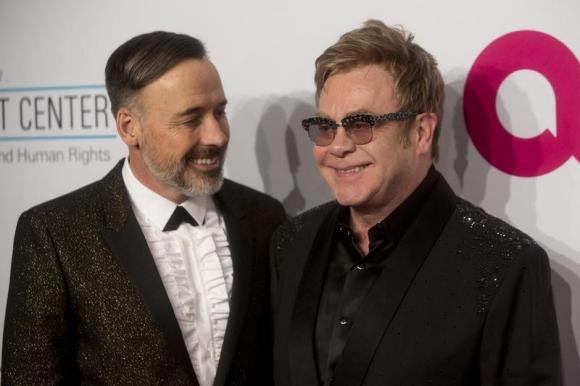 David Furnish (L) and Sir Elton John attend the Elton John AIDS Foundation's 13th annual An Enduring Vision Benefit in New York October 28, 2014. [Photo/Agencies]
British musician Elton John on Sunday married his long-term partner David Furnish, converting their civil partnership after laws allowing gay marriage in Britain came into force this year.
John, one of Britain's most prominent musicians and gay celebrities, announced the wedding by posting an invitation on the social networking site Instagram.
"Sir Elton John and David Furnish request the pleasure of your company to celebrate their wedding on Sunday the 21st of December," said the invitation, printed against a rose-filled background.
John and Furnish later posted pictures from the wedding, including the exchange of vows and the menu, which featured beef short rib and caramelized onion pie, and wedding cake.
Local media reported the ceremony was taking place at John's home in Windsor, 25 miles west of London.
Photographs posted online by other celebrities showed that former footballer David Beckham and his wife Victoria were at the event with their children. Actress Elizabeth Hurley also said on social media that she was attending.
John and Furnish's civil partnership was one of the first to take place after they became legal in 2005.
John has often used his status in the music world to make statements on lesbian, gay, bisexual and transgender equality. This year, he criticized Russia's ban on homosexual propaganda.
Prime Minister David Cameron pushed through changes to English laws last year, which came into effect in March, to allow same-sex couples to marry. The law's passage caused deep splits in his Conservative party.
Gay couples in Britain have been allowed since 2005 to enter "civil partnerships", which confer the same legal rights as marriage. Campaigners argued that the distinction gave the impression that society considered gay relationships inferior.
Related:
Praise for sexologist's LGBT admission shows growing acceptance