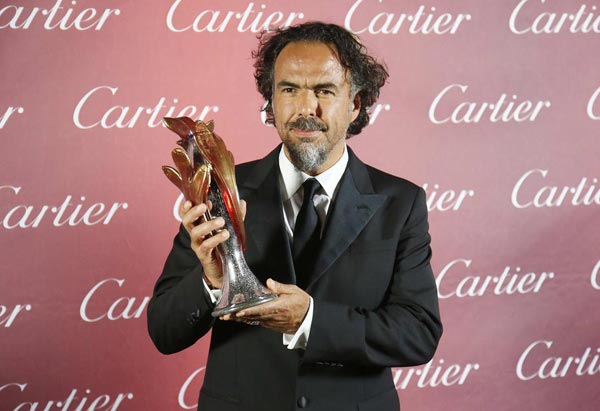 Director Alejandro Gonzalez Inarritu, of the film "Birdman," holds his Director of the Year Award as he poses backstage at the 26th Annual Palm Springs International Film Festival Awards Gala in Palm Springs, California, January 3, 2015. [Photo/Agencies]
Movie stars and filmmakers strutted on the red carpet Saturday evening to attend the 26th Palm Springs International Film Festival and the awards gala at the Convention Center in Palm Springs, California.
The black-tie gala attracted more than 2,400 attendees this year, including Brad Pitt, Steve Carell, Robert Downey and Michael Keaton.
Oscar-winning actor Robert Duvall received the Icon Award, while Alejandro Inarritu, director of Oscar-promising film Birdman, received the Director of the Year Award.
"Robert Duvall gives an outstanding and amazingly realistic performance as Judge Joseph Palmer in The Judge," said Festival Chairman Harold Matzner, "and this is sure to be remembered in his long list of iconic character roles."
When Duvall walked onto the stage to receive his award, he was met with a standing ovation from the audience.
Over the last 50 years, Duvall's singular performances have made him one of the most respected actors. His numerous awards and nominations include a Golden Globe for Best Actor in Tender Mercies and an Academy Award for Best Supporting Actor in Apocalypse Now.
Matzner also praised Inarritu, a talented Mexican film director, saying that "by creating the illusion that the film was shot in one take and directing award-worthy performances by Michael Keaton, Edward Norton, Emma Stone and a star-studded cast, Inarritu has created a brilliant and original dark comedy in Birdman."
In 2007, Inarritu received the festival's Director of the Year Award for Babel.
Other winners at Palm Springs International Film Festival include Julianne Moore, Rosamund Pike and Richard Linklater.
Related:
Godard movie 'Goodbye to Language' is critics group's top film