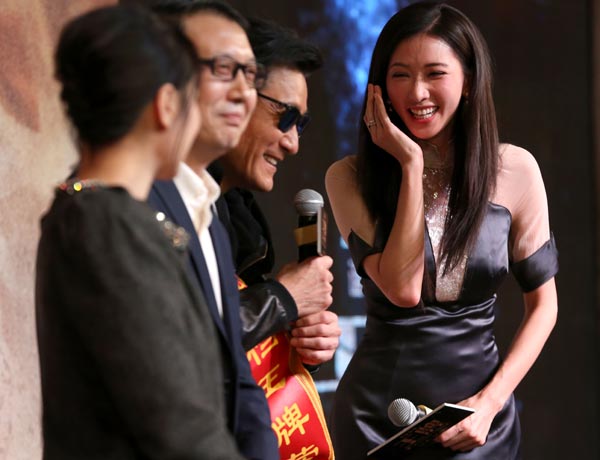 Taiwan-based model and actres Lin Chi-ling takes on a challenging role as an "ugly" woman in her new film. Jiang Dong / China Daily
Considered one of the most beautiful women in Taiwan, top model and actress Lin Chi-ling will soon be showing her "ugly" side on the big screen.
In the espionage movie Who Is Under Cover that's expected to premiere on Wednesday, Lin plays Zhao Biwei, a fine arts teacher arrested by the Kuomingtang on suspicion of being a Communist spy. Her face is ruined in prison by her captors.
In the 90-minute thriller, which is adapted from a significant real-life spy case set in 1930s Shanghai, Zhao is among five people who are tortured by Kuomingtang intelligence officials. The movie shows Lin's character as the lone survivor of the ordeal, and how she lives to tell the story five decades later.
"It's (the role) probably the most challenging since I started to shoot movies," said Lin, whose previous screen images have mostly been of pretty women, including playing the legendary ancient Chinese beauty Xiaoqiao in John Woo's Red Cliff.
"I would love to be a king of adventure, risking the difference and challenges in every new role. The moment I saw my terrible makeup in the mirror, I thought it's a good thing," she recalled.
With the movie's producer anticipating to hit the January box office, Who Is Under Cover has a glittering cast, including Hong Kong Film Awards-winning actor Tony Leung Ka-fai, Independent Sprits Awards winner Vivian Wu, Hong Kong actress Gillian Chung and Singaporean actor Christopher Lee.
Related:
Director Rao Xiaozhi savors crazy comedy about sanity