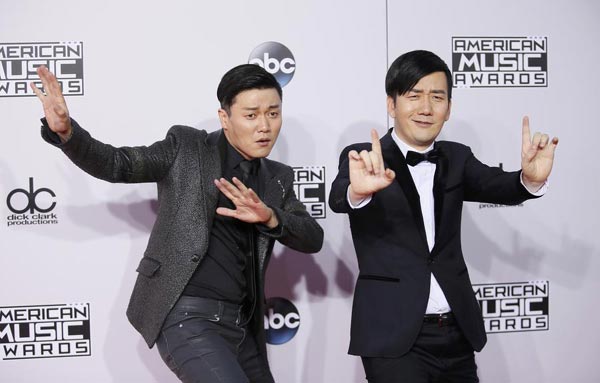 Musical act The Chopstick Brothers arrive at the 42nd American Music Awards in Los Angeles, California November 23, 2014.[Photo/Agencies]
Besides performing at the AMA gala, the duo has also cooperated with the popular South Korean girl group Tara on a Korean version of the song.
Also the AMA's awards are generally decided by public votes, which means they are regarded as a leading commercial indicator of US pop music market.
Mark Rafalowski, vice-president of the international department of Dick Clark Productions, the organizer of the awards, told Chinese media that the two international awards were established to explore the international market and attract more international audiences. Gong Mei, promotion director at Youku, the leading Chinese video website and a major cooperator with the Chopsticks Brothers, told the media that it was Little Apple's incredibly high number of Internet hits in China that persuaded the AMA to invite the Chopsticks Brothers to perform at the ceremony.
Like it or not, the massive domestic audience group Chopsticks Brothers has is undeniable, and that is exactly what the music business, whether at home or abroad, wants. To some extent, the two awards were more like AMA "woos" the huge Chinese market, rather than recognition of the merits of the song or the performers.
Furthermore, the commercial side of music needs to be separated from the cultural side. I still remember the first time I heard Korean pop singer Psy's worldwide hit Gangnam Style. Although I knew nothing about the singer and couldn't understand the lyrics as I don't speak Korean, I still enjoyed the catchy melody and funny dance.
The music video didn't leave me with much impression of South Korean culture, but it was fun and I enjoyed it. I have also used Crazy Frog and The Fox (What does the fox say?) as my ringtone, and I didn't relate these funny electronic songs to Swedish or Norwegian culture much. To me all these are just pop songs; they neither represent nor discredit an entire country's culture.
There is nothing wrong with being concerned about the development of domestic culture per se, but maybe we can be a little more relaxed about it. Just take it easy: we don't have to prove anything to the world. Business is business even when it's the business of culture. But the country has a thriving contemporary culture that can stand on its own two feet, and step out into the world when it wants.
Related:
Mixed responses follow Little Apple at AMA
Little Applewins international song of the year at American Music Awards
Boy bands top American Music Awards, ladies lead performances
42nd American Music Awards held in LA