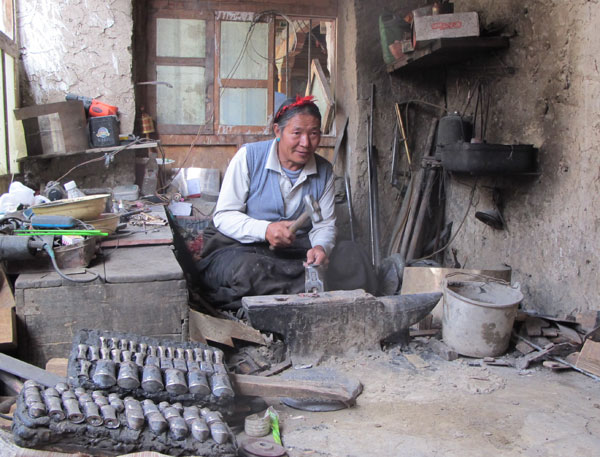 Budawa is making a sheath at his workshop. He was accredited as the "representative inheritor" of Lhaze Tibetan knife making by an intangible cultural heritage project in the Tibet autonomous region in 2008. Palden Nyima / China Daily
In a county, a few skilled men are trying to keep the craft alive, with the government's help. Palden Nyima and Phuntsog Tashi report in Tibet autonomous region.
In the quiet Lhaze county at the Tibet autonomous region, the sound of constant hammering draws the attention of passers-by to a house, where a man is busy making knives.
Budawa, 57, the house's owner, has been involved with the business since the past 45 years, and is today considered among the few remaining makers of the Tibetan knife.
The county has produced generations of such men, making it a specialty of the region, but the tradition is somewhat fading.
Budawa, who goes by the lone name, learned to make knives from his uncle Dorje Gyalpo, a fifth generation inheritor of the skill, at the age of 13.
"My uncle was the knife maker for the 10th Panchan Lama in Tashilhunpo Monastery in the 1980s, and I was with him at the time," said Budawa.
Local residents point out that their knife-making history also finds mention in Tibetan school textbooks.
"The 10th Panchan Lama came to my home and reminded me not to lose this ancient tradition, and his words have become a driving force for me," added Budawa.