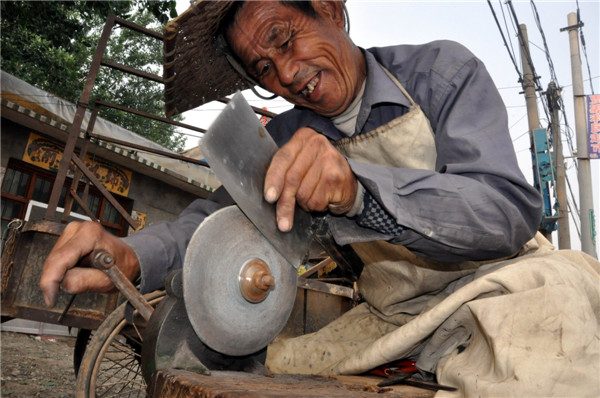 Jia Yijiang grinds a knife for a customer in Qiancun village, Shandong province, June 3, 2013. [Photo by Zhao Yuguo/Asianewsphoto]
Jia Yijiang, who grinded knives for nearly 50 years, finds no one wants to carry on the handicraft.
Jia, 71, a single man from Jiazhai town, Shandong province, first took the job when he was 22. He can't remember how many grindstones he's worn out.
Whenever the weather is fine, he wanders around the villages and towns to find customers. Thanks to his skilled handicraft and nice attitude to service, his business is quite busy.
The price of his services rose from initial five cents to later 20 cents and now one yuan. He enjoys the job though he earns only a dozen to 20-odd yuan a day.
He wants to find some young man to carry on the job but no one will. He feels sorry that the handicraft may die out.