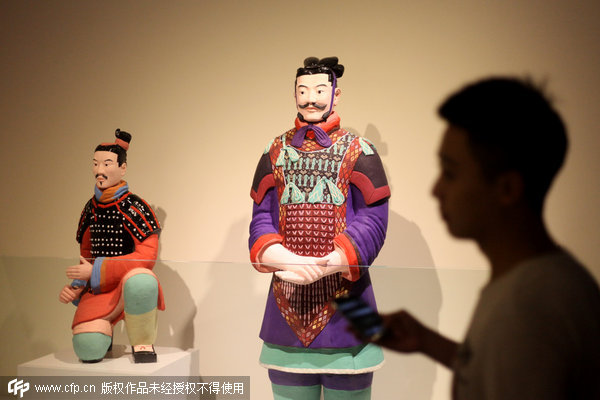 Warriors with coloring revamped by researchers, Sept 28, 2014. [Photo/CFP]
An exhibition of colored terracotta warriors opened in Xi'an, Shaanxi province on Sunday, marking the 40th anniversary of the discovery of the ancient artworks.
The display includes 37 relics including colored warriors, warrior heads and terracotta fragments, most of which are on show for the first time. The presentation will remain open until March 28, 2015.
Terracotta warriors are popularly imagined to be dark and grey but were originally fully colored only for the paint to decay after being under the earth for so long.
The 2,200-year-old mausoleum was discovered in the Lintong district, 35 kilometers east of Xi'an, in 1974 by peasants who were digging a well. Eight pieces of colored warriors were unearthed in 1998.