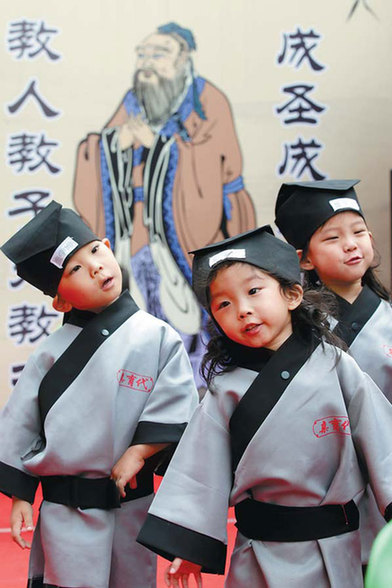 Children recite traditional literary works at a ceremony to commemorate the 2,565th birthday of Confucius at the QYD International Kindergarten in Beijing on Sunday.  Wang Jing / China Daily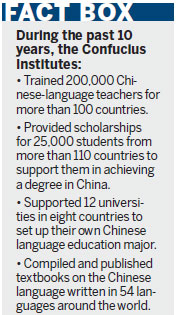 Confucius Institutes applauded for promoting positive international ties
Hundreds of officials, international students and Beijing residents gathered over the weekend at Hanban, the Confucius Institute Headquarters, to celebrate the 10th anniversary of the organization.
The inaugural Confucius Institute Day featured a series of cultural events, including salons, lectures, dancing, Peking Opera and folk music. The events were open to the public.
Vice-Premier Liu Yandong attended the opening ceremony on Saturday, bringing congratulatory letters from President Xi Jinping and Premier Li Keqiang.
Xi noted in his letter that during the past decade, as Confucius Institutes have taught the Chinese language, they have played a key role in promoting positive relations with other countries.
Confucius Institutes not only belong to China, but also to the world, and the Chinese government and people will go on supporting their development, Xi said.
Li said in his letter that he hoped that Confucius Institutes will stick to Sino-foreign cooperation, improve teaching standards, deepen cultural integration and make greater contributions to global cultural diversity and harmony around the world.