Chinese President Xi Jinping is expected to meet with sinologists and Confucius Institute students in Germany during his 11-day tour in Europe.
There are now 15 Confucius Institutes and three Confucius Classrooms in Germany, and they aim to serve as a bridge connecting German people with Chinese culture.
The Confucius Institute program was initiated in 2004, and Confucius Institutes/Classrooms, named for the ancient Chinese philosopher Confucius, are non-profit public institutions aiming to promote Chinese language and culture around the world.
According to the website of the Confucius Institute Headquarters (Hanban), there are 440 Confucius Institutes and 646 Confucius Classrooms in 120 countries and regions.
Confucius Institutes/Classrooms adopt flexible teaching patterns and adapt to suit local conditions in the teaching of the Chinese language - and when promoting Chinese culture - in primary schools, secondary schools, communities and enterprises overseas.
Xu Lin, head of Hanban, said last year that the authorities aim to establish branches in nearly 500 large cities around the world by 2020, with a total of 1.5 million registered students.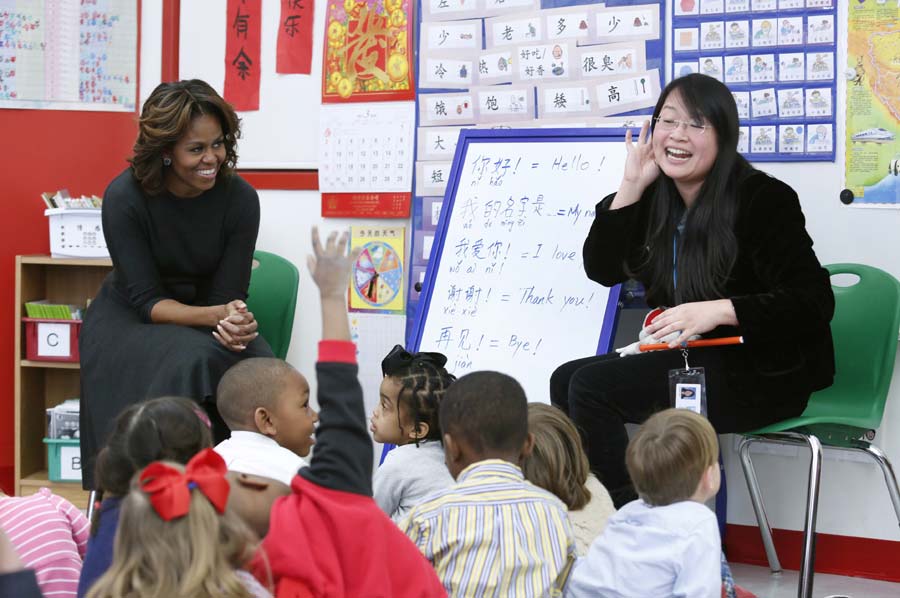 US first lady Michelle Obama (L) participates in Confucius Classroom with teacher Crystal Chen for pre-school students at the Washington Yu Ying Public Charter School ahead of her upcoming trip to China in Washington on Tuesday. Yuri Gripas / Reuters