Editor's note: Michelle is posting a daily travel blog and the following is the excerpt from her journal.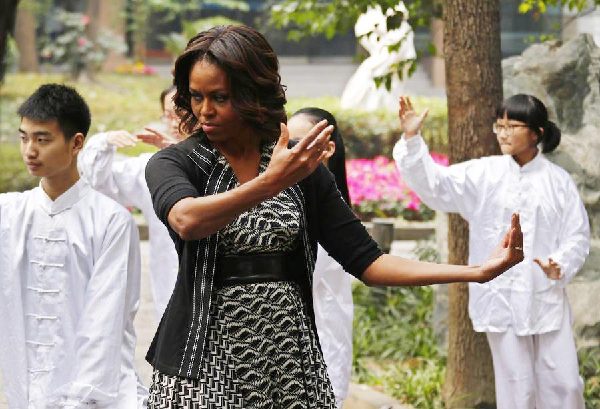 US first lady Michelle Obama (C) practicestai chiwith students at Chengdu No 7 High School during her visit in Chengdu, Sichuan province, March 25, 2014. [Photo/Agencies]
March 25, 2014
Chinese families and students tend to place a very high value on education. Many parents in China make great sacrifices to give their children the best education possible, and many students study long hours to get a good score on the GaoKao.
I started my visit at the No. 7 School by speaking with about 600 students in their school auditorium – and about 12,000 of the remote students participated by video. I talked with the students about how, when we live so far from each other, it's easy for us to develop all kinds of misconceptions about each other – but it often turns out that we have so much in common. I cited my own experience growing up in America as an example and pointed out that many parts of my story – my humble background, the closeness of my family, my parents' determination to see my brother and I get a good education – are similar to their life stories.
Special: US first lady visits China