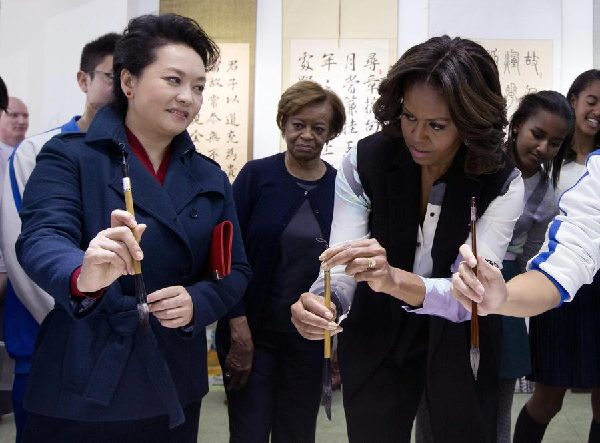 Peng Liyuan (L), wife of Chinese President Xi Jinping, shows US first lady Michelle Obama how to hold the writing brush as they visit a Chinese traditional calligraphy class at the Beijing Normal School, a school which prepares students for university abroad, in Beijing March 21, 2014. [Photo/Agencies]
Chinese first lady Peng Liyuan accompanied US opposite number Michelle Obama on a visit to a high school in Beijing on Friday, together with Mrs Obama's two daughters and mother.
Peng and Obama visited Second High School Attached to Beijing Normal University, a seat of learning that advocates education exchange and prepares students for studies abroad. There are more than 40 American students studying at the school.
"Exchanges in culture and education can promote mutual understanding and friendship between the citizens of our countries, and this is critical to the development of the Sino-US relationship. I'm very glad to see you here in Beijing," Peng told Obama.
Obama said it was very rare for her to travel with her mother and daughters, adding that they were honored to have been invited by Peng.
"We hope to understand more about Chinese culture and education through this trip, and spark more interest in American youth on China," she said.
Peng and Obama toured a science class and played with a robot created by students. Obama also tried her hand at Chinese calligraphy, where she wrote the character "Yong" (forever). Peng, who excels in calligraphy, also worked on a scroll with four Chinese characters "Hou De Zai Wu" (great virtues) and presented it as a gift to Obama.
At the end of the tour, Obama showed her active side by playing table tennis with some students. More than four decades ago, China and the US began the "Ping Pong Diplomacy" that paved the way to a visit to Beijing by former president Richard Nixon. Obama places great importance on exercise and reducing child obesity, and publically advocates physical fitness with her "Let's Move!" initiative.
After the school, Peng accompanied Obama and her family on a tour of the Forbidden City.