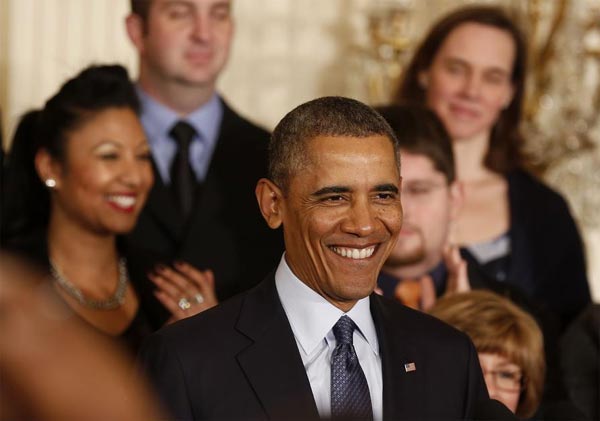 US President Barack Obama speaks before signing a Presidential Memorandum on modernizing the overtime system to help insure workers are paid fairly for their work while in the East Room of the White House in Washington, March 13, 2014. [Photo/Agencies]
US President Barack Obama spoke with talk show host Ellen DeGeneres via a video link on her show Ellen on March 20.
His wife, first lady Michelle Obama, is visiting China until Wednesday with their daughters Malia and Sasha as well as her mother Marian Robinson.
When asked how his wife was, Obama replied: "She hasn't landed yet (at the time of the interview), but the house is abandoned. I'm stuck with two dogs, and I'm expected to walk them, and do what you do when you walk dogs."
"I think they're gonna have a wonderful time. They haven't been to China before, and the opportunity for them to talk to young people (is great). They've actually met with students here who've made the trip (to China) before and (they have) helped brief them in terms of what they should see. It's going to be a wonderful exchange," said Obama.
One of Michelle Obama's great interests is education. She visited Second High School Attached to Beijing Normal University on Friday, a school that advocates education exchange and prepares students for studies abroad. On Saturday she will speak at the Stanford Center at Peking University, where she will meet Chinese and American students who have studied in each other's countries.
China is the greatest source of foreign students to US universities, while a growing number of US students are learning Mandarin, including 16-year-old Malia, the Obamas' eldest daughter.
"Hopefully, because of this trip, they may be able to invite some Chinese students back to the United States as well," said the US President.