Food and drug regulators are cooperating with local public security departments in the investigation of a food safety scandal involving more than 800 tons of industrial gelatin that was sold to more than 1,000 businesses for use in food, the Liaoning Provincial Food and Drug Administration said on Friday.
Authorities in Yingkou, Liaoning province, where police seized more than 6,000 kilograms of food items made with the industrial gelatin, are intensifying inspections to ensure people's safety, according to the Yingkou Information Office.
Industrial gelatin is on a list of substances banned for use in food by the National Health and Family Planning Commission, China's top health authority.
The gelatin, usually used for industrial purposes such as thickening liquids, including polishing compounds, may contain high levels of heavy metals that can harm human health, the commission said.
Police in Yingkou recently broke the case and shut down seven underground workshops that were producing food containing the gelatin, according to a report by Xinhua News Agency.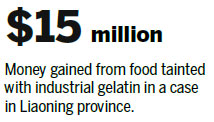 A key suspect, identified by the surname Cui, worked with others to buy more than 800 metric tons of industrial gelatin from different places, including Jilin, Hebei and Shandong provinces, since 2012, the authorities said.
According to a report in Changchun Evening News, based in Changchun, Jilin province, most of the industrial gelatin came from Tonghua in Jilin.
The gelatin was sold to business and shop owners in 161 cities and counties in eight provinces in China, according to officials from Liaoning and Jilin who were quoted in the report.
The gelatin was then added to food products such as sausages and pork jelly, a popular snack in many parts of China. The food was sold for more than 100 million yuan ($15 million), the Xinhua report said.
Police have detained 32 suspects and seized 65 metric tons of poisonous industrial gelatin, the report said.
The China Food and Drug Administration said on Tuesday that it has urged authorities in Liaoning and Jilin to cooperate with local police to prevent food involved in the case from entering the market, and to severely punish the culprits.
Cases involving industrial gelatin as a replacement for food- and medicine-grade gelatin have been reported before. In November 2012, five people received sentences ranging from six months to two years at a court in Chongren, Jiangxi province, for crimes including producing and selling poisonous food.