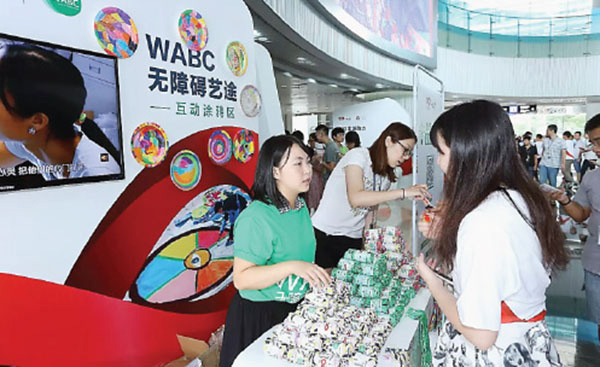 A Tencent employee, and charity supporter, explains to a visitor how to take part in Tencent's program in September, 2015. [Photo provided to China Daily]
The first batch of 10 websites will be selected to promote charity programs and raise funds for organizations, the Ministry of Civil Affairs said in a notice on Thursday, the Beijing Times reported.
According to the Charity Law passed early this year and which will come into practice on September 1, the ministry can choose the websites.
Article 23 of the law says that when charity organizations want to raise money on the internet, they should publish their fund-raising information on the websites named by the ministry.
Only those websites that are well-respected and credible in the charity sector will be selected, the ministry said.
The operators of the websites should be independent legal entities and have the internet content provider certificates from the authorities. The operators should have no record of illegal activities on the country's credit systems.
The websites should have special pages to highlight the charity programs and separate pages for visitors to donate for each program. The websites should also have sections for feedback, comments and online complaints.
The websites must establish special mechanism on securing the data safety of the online donations, setting up teams of technicians and managers to take charge of the data safety.
Applicants are required to submit applications with materials proving their qualifications through letters and e-mails before August 5. The finalists will be made public by the ministry after review and evaluation.
The ministry will organize government officials, internet experts and representatives from social organizations and media outlets for the review and evaluation.
Online philanthropy has become popular in China, as many believe it offers more convenience and transparency compared to traditional methods of donation.
Xinhua contributed to this story.