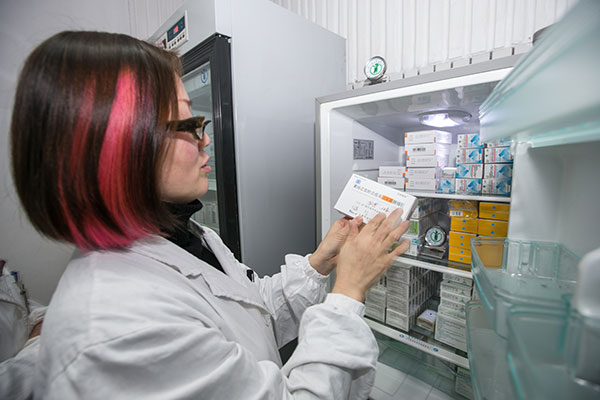 Vaccines are adequately refrigerated at a community health service center in Xiacheng district, Hangzhou, March 22. [Photo/VCG]
Most of the problematic vaccines involved in a recent illegal sale case have been used, and flaws in supervision of vaccine distribution are to blame, officials said at a news conference on Thursday.
Shandong police announced recently that they had arrested a mother and daughter alleged to have illegally sold improperly stored or expired vaccines worth more than 570 million yuan ($87.5 million) across 20 provinces since 2011.
About 20,000 unused doses of the vaccines have been found so far, and investigations are underway to locate other vaccines, said Hua Jingfeng, deputy director of the Public Security Management Department at the Ministry of Public Security.
Officials from the top health and drug safety authorities also attended the news conference.
More than 130 suspects involved in the case have been detained, Hua said. About 30 drug distribution companies were found to be illegally trading the vaccines and selling them to 16 vaccination outlets.
According to Shandong police, the mother and daughter purchased 25 types of vaccines from more than 100 pharmaceutical salespeople, both licensed and unlicensed, and sold them to illegal agents or even local disease control and prevention centers at higher prices.
All of the vaccines involved are in Category 2. Unlike Category 1 vaccines, which are compulsory and free, Category 2 vaccines are provided upon request to recipients, who must pay for them.
Yu Jingjin, head of the Disease Prevention and Control Bureau of the National Health and Family Planning Commission, said some vaccination clinics might have knowingly purchased Category 2 vaccines from unlicensed suppliers to increase their profits.
So far, there has not been an increase in the number of reports of vaccination-related side effects, he said, citing a nationwide surveillance network for adverse reactions to vaccines.
Li Guoqing, a division director of the China Food and Drug Administration, said the case has exposed lax supervision of the distribution of Category 2 vaccines. The vaccines involved were close to their expiration date, he said, noting that illegal suppliers cannot ensure proper storage or transportation.
Expired vaccines can fail to protect recipients against infections, but "they pose a very small risk of causing a toxic reaction", the World Health Organization's China office said in a statement on Tuesday.
"The suspects are taking advantage of this and have sold the vaccines mainly to rural or township vaccination clinics," Li said.