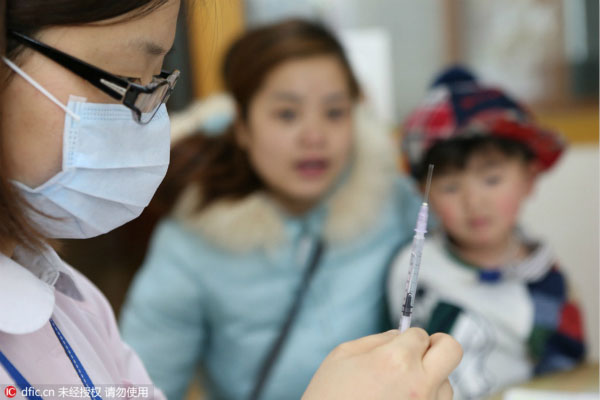 A Chinese medical worker prepares to vaccinate a young kid at a hospital in Shanghai, China, March 20, 2016. [Photo/IC]
BEIJING - No more side effects have been detected among the patients vaccinated with suspected illegal vaccines, an official at the National Health and Family Planning Commission (NHFPC) said Wednesday.
According to Xiong Huang, spokesperson of the NHFPC, the observation was based on the analyses made by medical experts with a state-level database on vaccines.
The commission has been working with local health departments to crack down on illegal vaccines, Xiong added, calling for local departments to report more information on the whereabouts of the illegal vaccines.
It was revealed last week that "problematic vaccines" either improperly stored or expired worth over 570 million yuan ($88 million) had been sold illegally in 20 provincial-level regions since 2011.
The case involves 12 vaccines, 2 immune globulin and one therapeutic product allegedly sold by a mother and daughter, who were arrested in Shandong Province last week and are in police custody.
Also, China Food and Drug Administration (SDA) announced on Wednesday that it was the salesmen at pharmaceutical companies that provided the suspects with illegal vaccines. So far, 12 have been discovered.
The investigation on illegal vaccines is set to conclude with a report to the SDA before Saturday.
The suspects allegedly purchased 25 types of vaccine from more than 100 pharmaceutical salesmen, both licensed and unlicensed and sold them to illegal agents or even local disease control and prevention centers at high prices, according to Jinan police in Shandong.