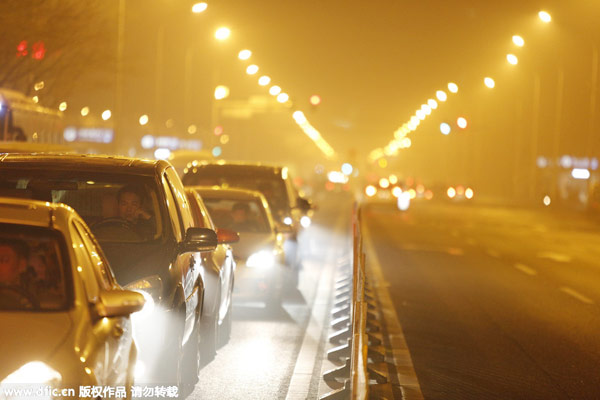 Vehicles run on the street near Xuanwumen amid the heavy smog in Beijing on Dec 8, 2015. [Photo/IC]
Beijing's public transportation system is expecting 2 million extra passengers on Tuesday following the city's first air pollution red alert, according to the city's transportation authority.
The capital city announced late Monday evening that it will raise the air quality alarm to its highest level from 7 am on Tuesday to 12 noon Thursday putting restrictions on car use as cars are allowed on the roads on alternating days depending on the odd or even numbers of their license plates. More than half of the city's private vehicles will be affected.
At 9:20 am, passengers were still packing the subway stations, especially in transfer stops.
At Chaoyangmen station, the transfer station for Line 2 and Line 6, at least 8 people (that's not that much) were standing at each door, waiting to squeeze in the carriages.
The station staff told reporters from China National Radio that the peak hour came at 6:40 am, which is earlier than usual days, and the passenger flow increased about 10 percent.
Subway trains will temporarily not stop at Guomao and Shaoyaoju station, two major transfer stations on Line 10 and Line 1, to ease the pressure for two lines.
The subway authority said they have increased staff at each station and so far they haven't found problems of overloaded carriages.