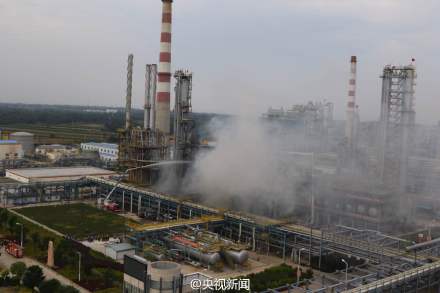 Smoke rises after a leak caught fire at a chemical plant in Qingyang, Northwest China's Gansu province, July 26, 2015. [Photo/China Central Television on Sina Weibo]
One person was killed, four injured and another two are missing after a chemical plant fire in northwest China's Gansu province on Sunday, provincial authorities said.
A leak at the facility is believed to have caught fire at the Qingyang Petrochemical Company owned by PetroChina at around 7 am, said the government of Qingyang city.
The blaze was extinguished by 11:55 am without causing secondary accidents, it said.
Rescue and further investigations are under way.