Companies that are responsible for accidents could be fined as much as 5 million yuan ($813,000), a draft amendment to the Law on Workplace Safety proposes.
The draft is being reviewed by the Standing Committee of the National People's Congress, the country's top legislature.
Companies that produce and transport dangerous products and operate mines must employ qualified safety engineers to take charge of work safety issues, and the employment of safety engineers should be reported to the local government, according to the draft.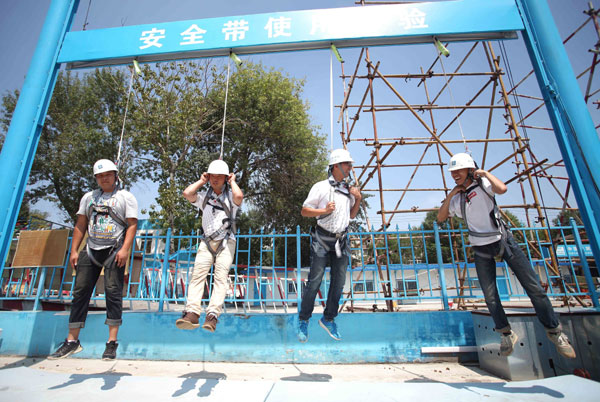 Four construction workers practice using a safety belt at a training and experience-building site in Tianjin this month. The site, the first of its kind in Tianjin, covers 300 square meters and consists of 11 modules, including those for the safe use of electricity and helmets. Liu Dongyue / Xinhua
Among other rules, the draft proposes that companies be fined up to 1 million yuan if they use uncertified safety equipment in high-risk industries such as mining and the storage of dangerous materials. The current fine is 50,000 yuan.
Cai Renjun, an official from the Legislative Affairs Commission of the NPC Standing Committee, said that the draft holds that the employer bears primary responsibility for protecting workplace safety.
About 70,000 people died in work safety cases last year, about 60,000 of them in road accidents, Cai said during a news briefing on Wednesday.
Serious accidents have also occurred in some industries and places that are not deemed as risky, he said, such as the fire that killed 121 people at a poultry plant in Jilin province in June last year.
More recently, a blast at a wheel hub polishing workshop in Kunshan, Jiangsu province, on Aug 2 killed 75 people and injured more than 180. A preliminary investigation found that the explosion was caused by excessive metal dust in the workshop igniting.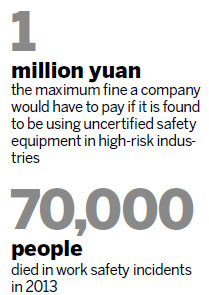 Government officials may be removed from their posts and imprisoned if they violate the criminal law, under the draft.
The draft authorizes government agencies to take compulsory measures, including cutting the electricity supply, if companies refuse to improve their safety procedures.
The bill was introduced in February at a bimonthly session of the NPC Standing Committee, but it has not yet been approved. It is going to be reviewed for a second time during the NPC Standing Committee's session, which will run from Monday to Sunday.
Zhang Mingqi, vice-chairman of the NPC Law Committee, said on Monday that the revision is needed because the country has a high incidence of workplace accidents and fails to prevent ones that result in serious casualties.
The NPC Law Committee heard the opinions of lawmakers, experts, entrepreneurs, social organizations and local governments during a conference held on Aug 7 and 8, he said.
The law, which took effect in 2002, has helped reduce malpractice. According to the State Administration of Work Safety, deaths in work safety cases dropped by an average of 10 percent annually from 2005 to 2013.
According to the administration, it investigated 44 serious workplace accidents last year, and about 300 people were prosecuted.
anbaijie@chinadaily.com.cn