British companies see major opportunities in Made in China strategy
By Chen Yingqun ( chinadaily.com.cn )
Updated: 2016-05-05 17:09:01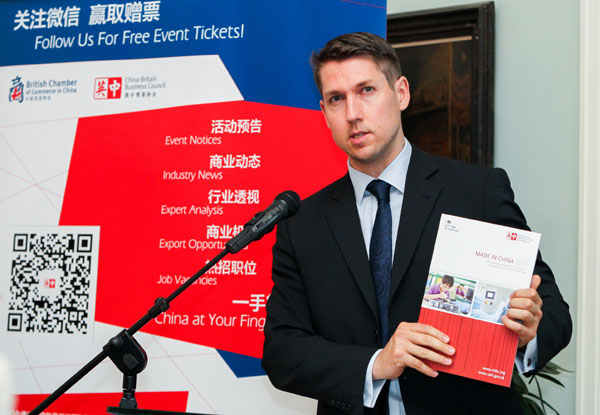 Kirk Wilson, executive director of the China-Britain Business Council (China), introduces the report. [Photo provided to chinadaily.com.cn]
The Made in China 2025 strategy will not pose challenges to British companies, but will provide huge opportunities for them, said a report by the China-Britain Business Council.
The China-Britain Business Council's major new report "Made in China 2025" complied with the support of UK Trade and Investment, was launched on May 4 in Beijing. About 50 companies have attended to learn about this strategy and potential opportunities it might bring over.
China put forward its "Made in China 2025" strategy last year to transform from rough manufacturing to more value-added production.
Kirk Wilson, executive director of the China-Britain Business Council (China), said that the British companies have paid close attention to this strategy since it was announced.
"When China first announced the Made in China program, I think it raised a lot of questions for British companies. The wording of the report was very ambitious So China wants to upgrade its manufacture capability, that presents challenges for British companies," he said.
"But we believe there are a lot of opportunities, as China does move up the value chain; there will be a lot of more high-end customers for British technology that is why we wrote the report."
The report said that this strategy will actually create huge cooperation opportunities for China and British companies, including in the industries where the British companies have great strength, such as the high-tech equipment, technology and management consulting services, joint research and development, design, education, vocational training, financial and professional service.
Stephen Phillips, chief executive of the China-Britain Business Council, said that in the future the cooperation between China and Britain will not be restricted on certain key regions, but will cover the whole of China, as he has observed that many provinces and cities have made their own specific action plan that go with the Made in China 2025.
The report also specifically provide enterprises information and successful cooperation cases in this report, to help British companies and Chinese companies get to know each other better. More reports on this topics will also be launched later to help British companies continuous understand the latest updates on this strategy.

We will not give up search, Li vows
International hunt for missing airliner continues after fruitless six-day search