The Summer of Yaya, a Gansu-made film won the "Best Educational Film" at the 2016 Universe Multicultural Film Festival in South Bay, Los Angeles on April 1 to 3.
It tells a story of Chen Yaya a new college graduate who chooses to return to her hometown, instead of taking work opportunities in Shanghai, in favor of helping local villagers find ways to get out of poverty.
The film highlights the spirit of the college-graduate village official who seeks the truth and works for the public good. The film also highlights the changes in Chinese rural areas, said Lynn Tang, chairman of the Universe Multicultural Film Festival.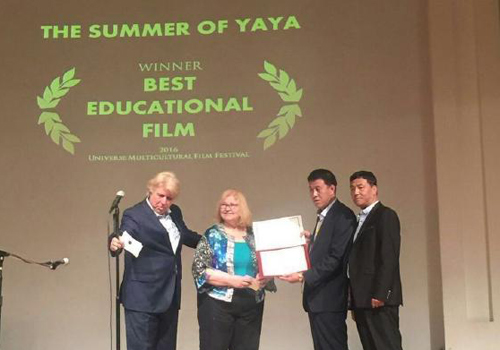 The Summer of Yaya is awarded "Best Educational Film" at the 2016 Universe Multicultural Film Festival in Los Angeles. [Photo/Youth.cn]
It's a film heavily featuring rural China and also the first of its kind to win an award at the international A class film festival. Its success signals a great breakthrough in down to earth Chinese filmmaking.
Zhu Jianghua, director of the film and Li Xiaozhou the film producer attended the awarding ceremony.
The film was jointly produced by the Gansu Provincial Publicity Department, provincial administration of radio, film and television and Baiyin city's publicity department.
The Universe Multicultural Film Festival is an annual event held in Los Angeles. The film festival aims at providing a universal platform for different countries to share culture and exchange ideas through film.
The 2016 film festival attracted more than 1,200 films from 50 countries and regions including the United States, China and France.