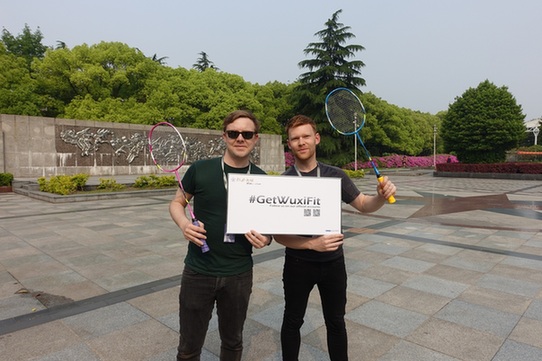 Follow our correspondents Owen (L) and Jake (R) around Wuxi's sporting landmarks over the summer with our #GetWuxiFit campaign.[Photo provided to chinadaily.com.cn]
With summer just around the corner, there's a good chance you've already started daydreaming of white sands and azure sea in a land afar. To help you kick start your engines and inch towards that beach body you've been meaning to work towards, China Daily has teamed up with the city of Wuxi to launch the #GetWuxiFit campaign. So dust off those trainers you've had stashed away and get ready for an action-packed summer of sporting events in the city.
Whether you're already a keen runner or dabble in the occasional badminton match, help us highlight Wuxi's fitness and sporting scene by posting your photos on our official Facebook and Twitter accounts. A whopping 1000 yuan is up for grabs for those who post photos along with the hashtag #GetWuxiFit before April 29.
Our correspondents will be out and about over the coming months to encourage more people to get active. Keep an eye out for the #GetWuxiFit team around the city!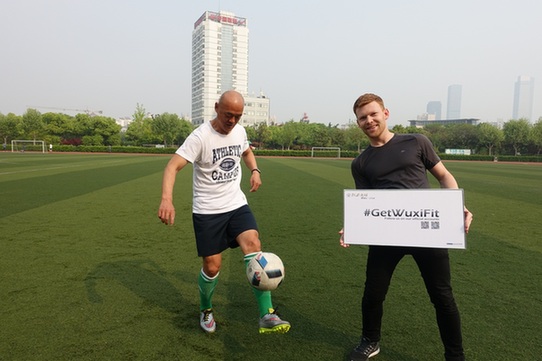 A children's soccer coach displays his skills in support of our #GetWuxiFit campaign. [Photo provided to chinadaily.com.cn]
Here is just a taste of some of the exciting sporting events happening as part of the 2016 Wuxi Netizen Public Welfare Sports Meeting series. Jointly hosted by the city's publicity department, office for cyberspace affairs, sports bureau and the Internet association, the meeting series will organize 10 events over the next eight months, such as running, swimming and football games.
| | |
| --- | --- |
| Time | Sports Events of 2016 Wuxi Netizen Public Welfare Sports Meeting |
| Apr 24 | Around Taihu Lake Hiking Event |
| May 14-15 | "China Mobile Cup" Three-player Basketball Match |
| May 28-29 | "Wuxi Rural Commercial Bank Cup" Table Tennis Matches |
| July | "China Telecom Cup" Five - a - side Footbal Games |
| August | "Wuxi Sports Lottery • Super Lotto Cup" Swimming Contest |
| | "Zhenfa Cup" Canoeing Competition |
| | E-sports Games |
| September | "Wuxi Sports Lottery •Jincai Cup" Martial Arts Competition |
| October | Mixc Run |
| November | "Nanjing Bank Cup" Badminton Match |
How to share your photos with our #GetWuxiFit community?
Share your sporting photos along with the hashtag #GetWuxiFit on Facebook or Twitter to be in with the chance of some tasty prizes.
You can also add Annepan2 as a contact on your WeChat and share your photos at the #GetWuxiFit (Photo Submissions) group.
Alternatively, you can email your photos to wuxichina2015@163.com.
Don't forget to tell us where the photo was taken and your full name in your submission.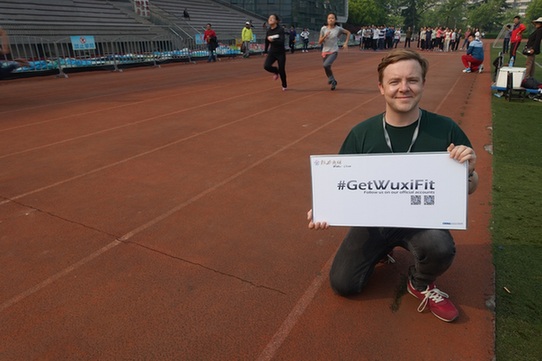 China Daily reporter Owen gets behind the #GetWuxiFit campaign by posing for a photo as middle school students participate in their mid-term physical test on April 21. [Photo provided to chinadaily.com.cn]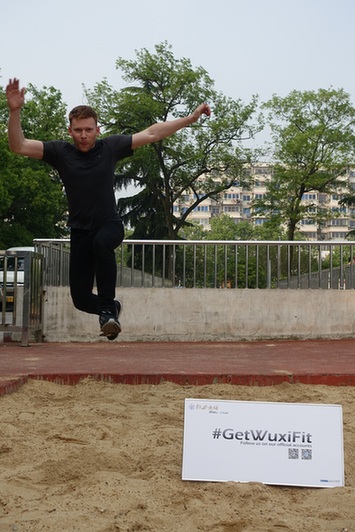 Whether it's a picture of you cycling, running, trampolining or paragliding, post your photos on Facebook or Twitter along with the hashtag #GetWuxiFit. [Photo provided to chinadaily.com.cn]
Winner & Prize
Photos submitted before April 29 will be in with a chance of winning 100 yuan, 500 yuan and 1,000 yuan sports fund or USB flash disks. More prizes may be up for grabs throughout the summer.
SOMETHING MORE you need to know
Participants accept that all awarded works may be exhibited online or for other purposes, including exhibitions and shows.
The participant guarantees that the entries were created independently by the participants themselves, and shall not violate others' rights and interests.
In the event of legal action being taken in response to infringements of the aforementioned rights, the author of the works assumes sole legal responsibilities.
Entrants agree that the contest organizers have the final interpretation of the activity's rules. Upon contributing, contestants are deemed to be in agreement with and expected to comply with the above provisions.
Don't forget to follow Wuxi, China on Facebook and Twitter, and don't forget to share your photos of doing sports in Wuxi with #GetWuxiFit.