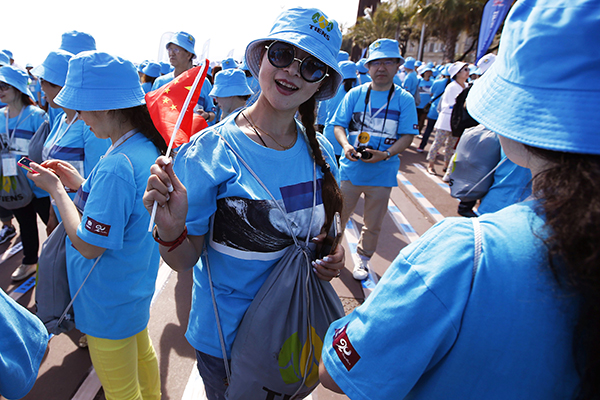 Employees of Tiens Group attend a parade in Nice, France, last May, with their travel expenses covered by the company. This year, the company has sent some 2,500 workers to Spain on a fully paid vacation. [Photo/Agencies]
Spanish authorities have taken special measures to welcome a large group of visitors from China, eyeing potential opportunities to attract more travelers from the country in future.
As part of its annual foreign jaunt, entrepreneur Li Jinyuan's Tiens Group is spending 7 million euros ($8 million) this year to take some 2,500 of its employees to Spain.
The workers of the biotechnology group arrived in Madrid on Wednesday. They will also visit the cities of Toledo and Barcelona.
"The economic impact of this trip is significant for Madrid, especially considering that they have booked 1,650 hotel rooms, rented 70 large buses and reserved four trains," said Madrid City Hall in a news release.
State-owned railway group Renfe has made available two extra-long special charter trains with a capacity of 1,500 seats to transport the group from Madrid to Barcelona. The company notes that the trains will operate outside regular hours to avoid disrupting the service.
Additionally, the Tiens group has booked another two regular trains to accommodate the remaining workers.
Renfe notes that the operation deployed for Tiens workers resembles those implemented during periods of peak mobility in the country, such as national holidays and the summer season.
"We are used to these type of operations during peak seasons, so it does not represent any problem for us," said Sara Hernandez, a media representative for Renfe. "The most complicated task was to allocate between 16 and 20 buses in the arrival and departure terminals of train stations. However, everything is solved now."
Local authorities in all three cities have arranged special cultural events to welcome the travelers.
They include a cultural and culinary gathering on Friday in one of Madrid's largest parks where the visitors will be able to try one of Spain's most popular dishes-paella.
"Local authorities in Madrid are putting great efforts to welcome the Tiens workers because Chinese tourists are mainly interested in cultural activities and shopping, which fits really well with the city offering," said Manuel Becerra, a Beijing-based business developer for the Spanish and Portuguese markets at Haiwan.com, a Chinese outbound travel platform.
Spain welcomes an average of 300,000 Chinese tourists every year, a market that is growing at between 20 and 25 percent, according to the Shopping Tourism and Economy Summit in Madrid last year.
Most Chinese travelers visiting Spain have high purchasing power and dedicate 70 percent of their travel budget to shopping.
Chinese remain the highest spenders among tourists visiting Spain, said the consultancy Global Blue. In 2014, Chinese spent an average of 1,400 euros during their visit to the Spanish capital.
Despite its enormous economic potential, Becerra said that the Chinese tourism market is still underdeveloped in Spain and activities like the Tiens group can have a very positive effect in attracting more tourists.