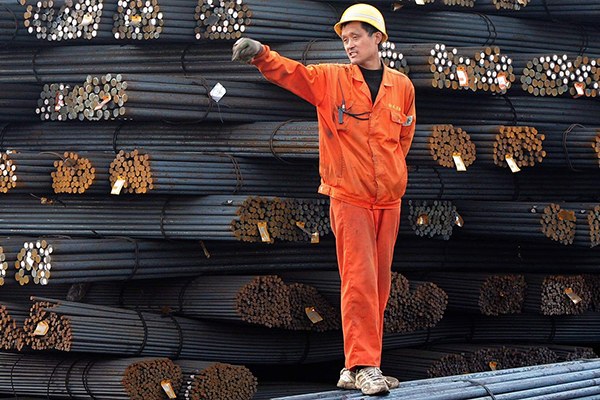 A worker at a steel depot in Qingdao Port, Shandong province. [Photo provided to China Daily]
Chinese steelmakers' efforts to cut capacity will help the global steel industry out of the woods despite a surge in prices in the past two months, the Ministry of Commerce said on Thursday.
Shen Danyang, the ministry's spokesman, attributed the surge to a rise in the prices of iron ore in global markets. He said increased activity in the infrastructure sector is also boosting both domestic and global demands for steel products.
His comments came after the international media reported that global steel price on average had risen from $305 per metric ton earlier this year to $365 in April because China had cut between 150 million tons and 200 million tons of steel and iron production capacity to tackle the issue of overcapacity.
Since March, China has adopted a series of measures including a plan to gradually cut steel production by 100 million tons by the end of this year and 200 million tons by 2020 to tackle the problem.
"It is a global issue for all countries to cope with the overcapacity of steel and iron products," said Shen.
"If other countries could take similar moves to reduce capacity as China has done, it is possible for the global steel sector to cast off from this cumbersome situation."
Sun Jin, director of communications at Wuhan Iron and Steel (Group) Co, one of the country's biggest iron producers by capacity, said the company's trains are no longer busy carrying piles of steel. Many production lines have closed.
"Even though the company announced two months ago that it would cut up to 50,000 jobs, there have been no layoffs or pay cuts yet. The company just wants to optimize labor resources, reduce human resource costs and enhance labor productivity. We still give workers a basic salary and social security. They just work somewhere else," he said.
Eager to restore its earning ability, the Wuhan-based steelmaker's non-steel businesses including new materials, energy resources, engineering and information technologies, logistics and modern services sectors have become its main breadwinners.
The government said 500,000 workers in the steel sector are expected to lose their jobs as part of the efforts to cut the overcapacity. It will provide 100 billion yuan ($15.37 billion) for retraining and helping them find new jobs.
"China is a large exporter of steel and a big importer for special steel used in shipbuilding, weapons, auto and machinery manufacturing. However, the import prices of steel are three times as much as export prices on average," said Zhao Ying, a researcher at the Institute of Industrial Economics of the Chinese Academy of Social Sciences in Beijing.
"The country needs to improve the quality of its steel products and move up the value chain to high-end steel products," said Zhao.
Zhang Yu in Shijiazhuang contributed to this story.