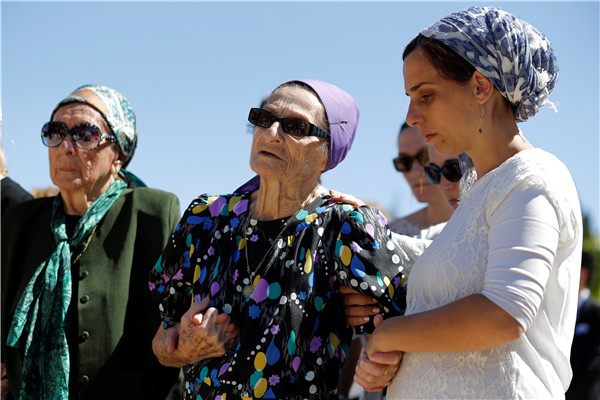 People stand still as a two-minute siren marking the annual Holocaust Remembrance Day in Israel is sounded at Yad Vashem Holocaust Remembrance Center in Jerusalem, May 5, 2016. [Photo/Agencies]
JERUSALEM - Israel was brought to halt on Thursday morning as sirens wailed to commemorate its annual Holocaust memorial day.
The entire country came to a standstill as the two-minute siren was sounded at 10:00 (0700GMT), marking the beginning of a series of memorial activities on the Jewish state's Holocaust Remembrance Day.
Traffic on roads and highways abruptly stopped. Many drivers stepped out their vehicles, standing still in contemplation. Pedestrians halted their steps and stood in silence.
TV channels and radio stations were broadcasting solely Holocaust-related content, such as documentaries, interviews with survivors and melancholic songs.
Memorial ceremonies were scheduled in schools across the country throughout the day. Later in the day, ministers, lawmakers and Holocaust survivors will read out the names of Holocaust victims at the Knesset, or parliament.