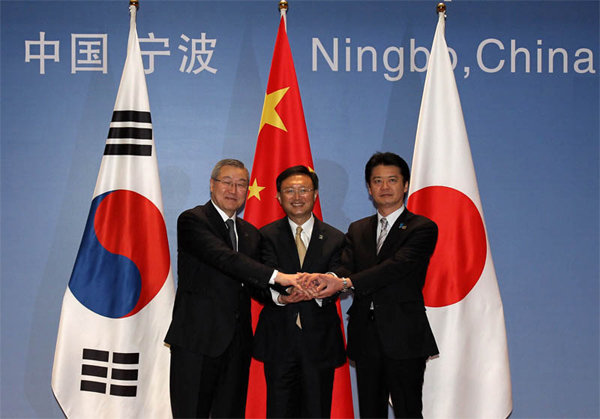 Then foreign ministers Yang Jiechi of China (C), Koichiro Gemba of Japan (R) and Kim Sung-hwan of South Korea have met in Ningbo of East China's Zhejiang province to discuss cooperation among the three nations, on April 8, 2012, the latest trilateral meeting of China, Japan and South Korea. [Photo/Xinhua]
SEOUL - The foreign ministers of China, Japan and South Korea are preparing to meet this month for their first talks in nearly three years, in a bid to discuss a three-way summit.
Japanese media reported that the foreign ministers would probably meet in Seoul on March 21 and 22, while China's foreign ministry said it would be in late March. South Korea said a ministers' meeting is planned for this month, without confirming the dates.
The last three-way summit was held in Beijing in May 2012.
An "initial consensus" on the foreign ministers' meeting had not been reached easily, Chinese Foreign Ministry spokesman Hong Lei said.
"China pays great attention to this foreign ministers' meeting, and hopes it can be arranged in a spirit of proactively promoting cooperation, yet not avoiding problems," Hong told a daily news briefing in Beijing.
Japan's ties with China remain frosty despite Japanese Prime Minister Shinzo Abe meeting Chinese President Xi Jinping for the first time last November on the sidelines of an Asia Pacific Economic Cooperation (APEC) forum.
"If the trilateral foreign ministers' meeting is held soon, it will undoubtedly give us the opportunity to re-establish the groundwork for trust-building and common prosperity," South Korea's deputy foreign minister Lee Kyung-soo said.
Lee hosted a meeting of his counterparts in Seoul on Wednesday, saying their goal was to make "preparations for a successful foreign ministers' meeting, upon which we may pave ways for the next step of trilateral cooperation".
South Korea has accused Japan of trying to "undermine" an apology issued in 1993 to Asian women forced to work as wartime "comfort women" in Japanese brothels by conducting a review of it last year.
Abe has yet to have a formal two-way summit with South Korean President Park Geun-hye, although they sat down with US President Barack Obama a year ago on the sidelines of a nuclear summit to discuss responses to DPRK's military threats.
Both China and South Korea have been angered by visits by Japanese government ministers, including Abe, to the Yasukuni Shrine, which were seen as a symbol of Japan's past militarism.
Ties have also been strained by territorial rows as China and Japan are disputed over uninhabited islets in the East China Sea, known as Diaoyu Islands; and South Korea and Japan both claim ownership over islands that lie between their mainlands, called Dokdo in Korean and Takeshima in Japanese.