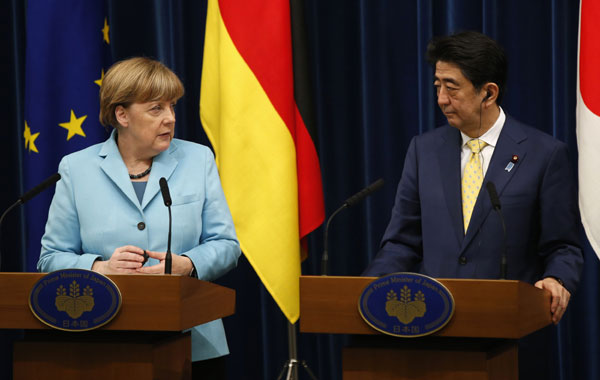 Germany's Chancellor Angela Merkel (L) and Japan's Prime Minister Shinzo Abe attend their joint news conference after talks at Abe's official residence in Tokyo March 9, 2015. Merkel, referring to Germany's own experience, reminded Japan on Monday of the need to squarely confront its wartime past. The polite reminder comes as Abe is preparing to issue a statement to mark the 70th anniversary of Japan's defeat in World War II.[Photo/Agencies]
BEIJING -- As the world prepares to commemorate the 70th anniversary of the end of World War II, Japan finds itself at a crossroads: maintain a pacifist stance or revive militarism?
Concerns over Japan's intentions have sprung up like mushrooms all across East and Southeast Asia, as the Japanese government appears ready to challenge the international order established after the war.
Since 2012, it has been one act of provocation after another. Japanese prime minister's visit to the Yasukuni Shrine, a spiritual symbol of Japan's aggression which honors war criminals, sent shivers across the region.
In July, his administration endorsed a fundamental reinterpretation of the pacifist Constitution, proposing a right to collective self-defense, ambiguously rebranded as "proactive pacifism".
If the Diet, Japan's parliament, approves the revision, the country's Self-Defense Forces will be allowed to send soldiers into battle on foreign soil, striking fear into the hearts of those with direct experience of Japan's previous overseas military escapades.
Similarly alarming is Japan's rising military expenditure. The cabinet has this year approved a record annual defense budget of just under 5 trillion yen (over $40 billion).
Not content to merely boost military spending, the government and right-wing press have intensified their propaganda campaign to redact the history of the war. The Japanese government still refuses to admit the nature, let alone the scale, of its crimes during WWII.