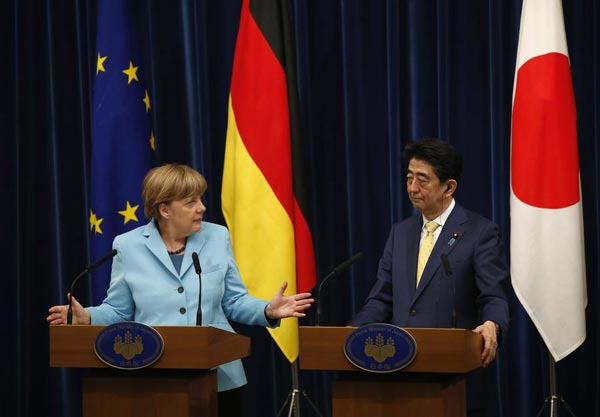 Germany's Chancellor Angela Merkel (L) and Japan's Prime Minister Shinzo Abe attend their joint news conference after talks at Abe's official residence in Tokyo, March 9, 2015. [Photo/Agencies]
BEIJING - China urged Japan to "make the right choice" on history by facing up to its past aggression on Monday.
Foreign Ministry spokesperson Hong Lei made the comment after German Chancellor Angela Merkel said during a visit to Japan on Monday that "facing history squarely" and "generous gestures" by its neighbors are necessary to mend ties.
This year marks the 70th anniversary of the end of World War II and China's victory in the Chinese People's War of Resistance against Japanese Aggression.
"We hope Japan can make the right choice on history in this special year," he said at a daily news briefing.
"China has shown generosity to Japan, differentiating the militarist minority that committed crime and the Japanese majority," Hong said. "The problem is Japan should have sincerity, rather than ignore history."
Chinese Foreign Minister Wang Yi also called on Japan to reflect upon history at a press conference on the sidelines of China's annual parliamentary session on Sunday.
The more the perpetrator is conscious of his or her guilt, the more relieved the victim can feel about the suffering, Wang said.
Japan invaded northeast China in 1931 and conducted a full-scale invasion in 1937. By the end of World War II, more than 35 million Chinese were killed or wounded during the Japanese aggression.
However, Japanese rightists deny and whitewash the country's wartime atrocities, including the Nanjing Massacre and the issue of "comfort women", a euphemism for sex slavery, involving forcibly recruiting and coercing women to serve the Japanese Imperial Army during the war.